Photos of Diane Kruger at Live with Regis and Kelly, PopSugar Interview Quotes
Diane Kruger Likes Being One of the Boys
Diane Kruger was up early this morning in NYC for an appearance on Live With Regis and Kelly. She's dedicated to getting out there to promote Inglourious Basterds with premieres across the globe, though she also finds time to unwind by partying with Brad and Angelina. At a recent press junket, Diane gushed about her admiration for Brad and talked about how comfortable she was working with him — check out the video of her interview here. She also had lots to say about Quentin Tarantino and drinking with the cast in Berlin. Here's more: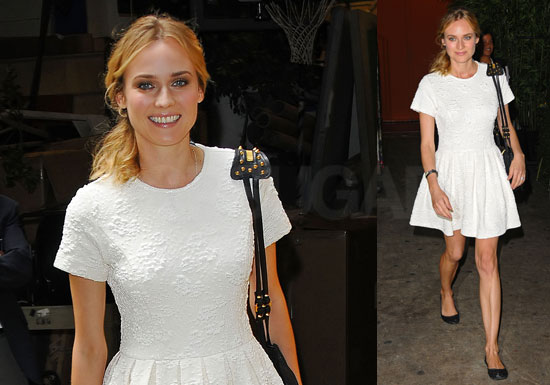 On Inglourious's male-oriented cast : "It's fun being one of the boys. It's fun to play a character that is tough and gets down and dirty and not to be this precious little piece that sits in the corner and just stands by the action."
On filming the movie in Berlin: "It [was] nice to be able to go home, my family [was] two hours away. I love the German food! Every Friday on Quentin's sets, the crew drinks and everybody goes. There's a bar we would go to all the time called Tarantino's. The owner is Quentin's biggest fan, the whole place is filled with memorabilia. Of course, he's never met Quentin. One night Quentin walks in, Brad Pitt right behind him with the entire cast. The guy nearly had a heart attack. I mean, can you imagine?"
On what she's most grateful for: "That I'm still here. That I'm sitting here today. Who knew? Knock on wood. It's been a journey and finally things are turning around, I think."
To read what Diane had to say about auditioning for Tarantino and hear more about how she wants to guest star on Fringe just
.
On auditioning for Tarantino: "The tough part is to get the job. He's one of the last directors in Hollywood who gets away with only hiring the actors he absolutely wants for a part — he would not have hired Brad Pitt if he wasn't Aldo Raine. It was hard for me to get the job, he had someone else in mind. He didn't believe I was German. It's like 'for god's sake, what's next?' He saw every actress in Germany, so you know you have to deliver in the room. Once I got hired, it was a walk in the park. I mean it was a very challenging part and there were hard days at the office. I haven't been allowed, in America at least, to play quite such a strong, tough, fierce woman. His dialogue is great, but it's not easy. You have to read it a few times. It's not your typical Hollywood shebang."
On her favorite TV shows: "Mad Men is my favorite show. I do like Fringe, of course. I'm a little biased, I wasn't going to bring that up."
On working with Josh: "He's pretty busy right now, so I don't think that for the next couple years there's going to be any projects between the two of us. I want to be one of the gooey monsters that gets killed on Fringe. It would be so fun."