Photos of Drew Barrymore and Ellen Page on the Cover of Marie Claire Magazine
Drew Barrymore and Ellen Page Kiss and Cozy Up in MC
Drew Barymore and Ellen Page teamed up in matching yellow for the October cover of Marie Claire. Inside the magazine, the girls got saucy in their roller skates and kissing for the camera. Ellen has been spending her Summer filming Inception with Leonardo DiCaprio while Drew has been working and playing with her boyfriend Justin Long on Going the Distance.The girls are back together to promote Whip It! talking about their experiences learning roller derby for the movie and what it was like for Drew as a first-time director. Here's more: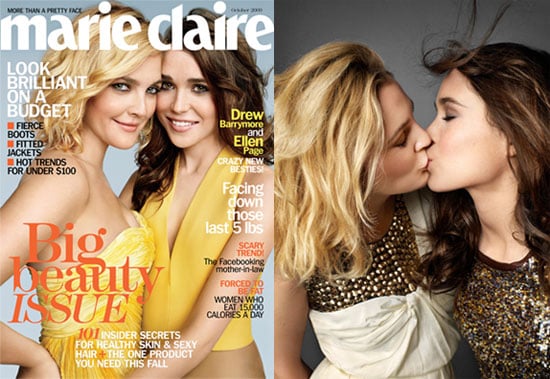 Drew on when she decided to direct: "I was 6 years old. That's when I turned in my first script to my godfather. [That would be Steven Spielberg, folks.] He called it Terms of Endrewment — ironically, like Whip It, it was also about a mother-daughter relationship."
Drew about Ellen: "Ellen has such a beautiful body, and I personally battled with my own body image for years. I used to tell myself, You can't wear anything sleeveless or strapless. And all of a sudden I was like, What if I just didn't send such negative messages to my brain and said, wear it and enjoy it? And now I'm more comfortable in clothes than ever."
Ellen on Drew: "I first met Drew at the Chateau Marmont. And it was a surreal moment for me in my life. You could just feel her warmth and kindness immediately, and the way she carried herself was just so grounded. So then it was like, 'Oh, this is going to be great.' And then it went into, 'Oh, my God, I'm really crazy about this person.' It just grew and grew and grew and grew and grew."