Photos of Eva Longoria on the Cover of November's Allure Magazine
Eva Longoria Is Alluringly Happy With Her Family and Friends
Eva Longoria is all glammed up on the cover of November's Allure, looking nothing like her low-key character on this season of Desperate Housewives. In between poses, she opened up to the magazine about her much-talked-about weight gain, rock-solid relationship with Tony, and famous friends. Here's more: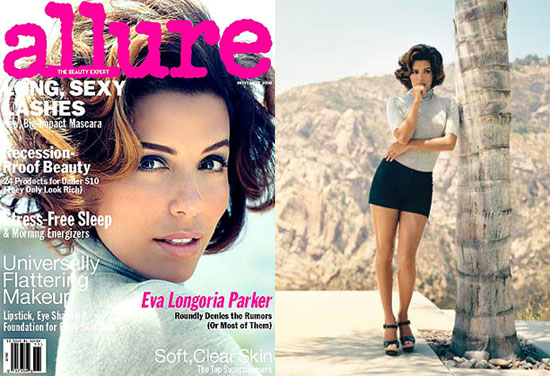 On her weight:"I've stopped working out and gained about seven pounds, which is a lot for a small person — but I'm still a size 0 . . . I never went up a size. I just got a little rounder."
On Victoria Beckham: "By the way, in real life? Victoria Beckham smiles a lot. She's very, very funny. I introduced her to Kate Beckinsale. How could they not know each other? They're just like a comedy show."
On her confidence:"I know I'm not pregnant; I know Tony and I aren't breaking up. I know we're not cheating."
Aside from the speculation over her figure, all seems to be well with Eva in terms of her family and career. She might not be pregnant just yet, but when that time comes it'll be fun to see yet another new side of Eva.