Photos From the Red Carpet at the 2010 Kids' Choice Awards
Rihanna, Katy Perry, Taylor Lautner and More Have a Bright Night on the Kids' Choice Red Carpet
The stars came out to walk the orange carpet at the Kids' Choice Awards in LA on Saturday. Katy Perry kicked things off in her colorful and metallic gown, and she stopped to tell us all about her upcoming wedding to Russell Brand. She said, "I'm not that obsessed, but Russell's really obsessed with the wedding. Like, we go to breakfast, and he has to stop and get a bride magazine — it's a little crazy." Her good friend Rihanna kept things similarly short and sweet with her fashion, and she's also got a touch of the bridal fever since she's planning Katy's bachelorette party. Rihanna said, "I'm on it, I'm on it already!" Selena Gomez and Nikki Reed were ready for Spring in their little dresses, while Zoe Saldana was in jeans and a blazer.
The guys, meanwhile, kept things strictly casual. Cory Monteith was fresh off his bowling date with Taylor Swift, and when asked who won he said, "Not me — I suck at bowling!" Taylor's other close friend Taylor Lautner joined his Twilight costar Jackson Rathbone, while Dev Patel and Justin Bieber stuck with the dark jeans trend. Kevin and Joe Jonas had their ladies Danielle and Demi Lovato by their respective sides — let us know what you think of the day's fashion and beauty with Fab and Bella's love it or hate it polls!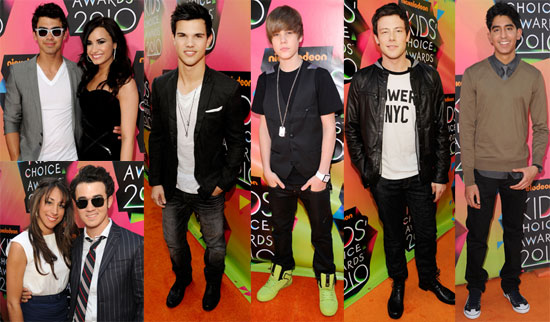 To see more from the red carpet, just
.
Images include: Will Smith, Jada Pinkett Smith, Jaden Smith, Willow Smith, Trey Smith, Justin Bieber, Taylor Lautner, Nikki Reed, Dev Patel, Nick Jonas, Kevin Jonas, Frankie Jonas, Danielle Jonas, Demi Lovato, Selena Gomez, Cory Monteith, Rihanna, Katy Perry, Zoe Saldana, Jackson Rathbone, Zachary Levi, Chris Rock, Jonah Hill, Shaun White