Photos of Gwen Stefani, Anna Wintour at Fashion's Night Out, Exclusive Interview With Gwen About Recording New No Doubt Songs
Gwen Talks New No Doubt Songs and Concerts Abroad
Gwen Stefani left her Spring 2010 L.A.M.B presentation and headed to Bloomingdale's yesterday to host an autograph signing for Fashion's Night Out — see her look here. The woman who conceived the event, Anna Wintour, stopped by as well, and the two fashion icons laughed and posed as Anna told Gwen about the international praise she's already received for The September Issue. We had the chance to speak to Gwen for an exclusive interview, where she hinted at a new fragrance line and told us No Doubt is hard at work in the studio. Here's more: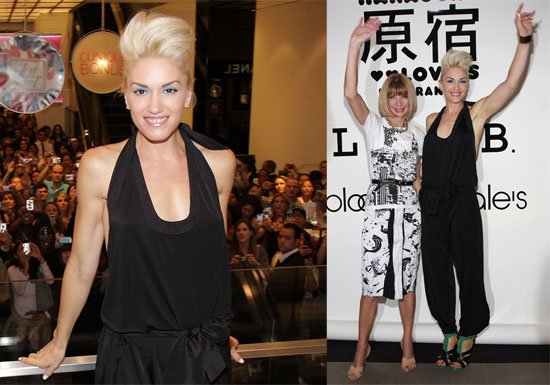 On her tour experience: "The tour was incredible. We played for almost a million people. It was the time of our lives, and every show was just really mind blowing, very emotional. It's kind of hard to believe and take it all in, but it's very inspiring. We were never planning to go on tour, it was just like on the fly — let's go! It was really spontaneous. So now we are trying to go back into the studio and write some music. We have a few more things: we are going to Russia and we are going to Singapore this month. They are just kind of one-off [performances] and then we are going to get serious about doing some songwriting. We were in the studio last week and tried some stuff."
On new No Doubt singles: "Well it's not a finished song, but we got it started and it was fun. Before we left I was in a little bit of a rut, but I don't feel like that anymore. I gained energy [from the tour]."
On the best lesson she's learned from being a mother of two: "How much easier my life was before? No I'm kidding, they are the best thing ever and we have so much fun together . . . It was fun [having them on tour]. It was really fun, but hard."
Stay tuned on more from Gwen about choosing her outfits for her tour and a possible new perfume!
To see more photos of Gwen and Anna, just read more.