Photos of Gwyneth Paltrow, Bono, Mario Batali at Spain . . . On the Road Again Launch Party in NYC
All of Gwyneth's Roads Lead to Success
Gwyneth Paltrow, Mario Batali, and a few of their celebrity friends like Bono and Helena Christensen got together last night at the Queen Sophia Spanish Institute in NYC to celebrate the debut of Mario and Gwyneth's Spain . . . On the Road Again. The PBS travel food show premiered over the weekend and has already been picked up for a second season in Italy — but that's not Gwyneth's only project. She's also just launched a website called Goop.com, which is dedicated to nourishing one's inner self. Gwyneth is all about sharing her passions these days, and at yesterday's event she opened up about her love of food and family. She said: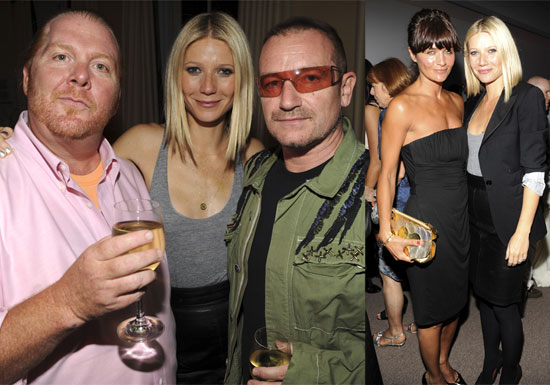 On being her own chef: "I cook all the meals for my house. I love to cook. [...] We have a wood burning pizza oven in our garden. Right now the weather is nice in London, so I'm using that oven a lot. You can cook anything in there. It's amazing."
On family tradition: "My dad was a famous pancake maker and I'm working on [adapting his] recipe right now. I'm making mine slightly healthier."
Gwyneth's mother Blythe Danner was there to show her support and also compliment her daughter's cooking. Whether or not you believe that she never diets, it seems like Gwyneth is well on her way to starting multiple side careers that sound pretty yummy.
To see more photos of Gwyneth, Bono, Blythe Danner, and others, just read more.
Images include: Gwyneth Paltrow, Mario Batali, Bono, Helena Christensen, Claudia Bassols, Mark Bittman, Blythe Danner