Photos of Halle Berry, Quotes From Her Daily Mail Interview Saying She'll Never Marry Gabriel Aubry
Halle Talks About Nahla and Her Hot "Nanny" Gabriel
Halle Berry brought gifts while visiting a friend yesterday in LA. She was rolling solo without Nahla and Gabriel Aubry, who's doing phenomenally in our new shirtless bracket competition. In a recent interview, Halle talked about her sexy model boyfriend, reiterated her stance against marriage, and mentioned again her desire to have another baby. Here's more: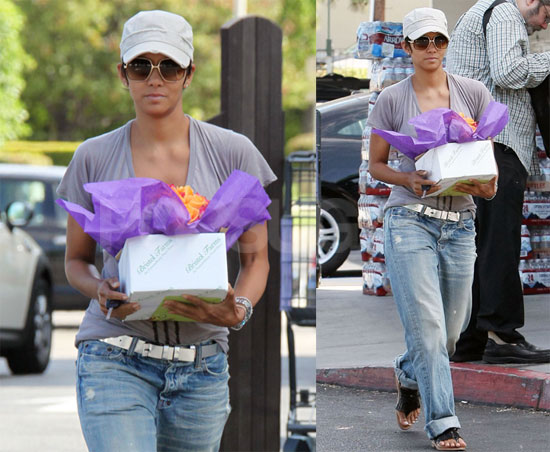 On not marrying Gabriel: "We clicked instantly. And yes, he's not at all bad on the eyes. . . I'm so not the relationship go-to girl. But I'm much clearer about what a relationship is, which is why I will never marry again. Gabriel and I have a great partnership and a lovely daughter. But I once was stupid enough to say, in a previous relationship, 'I'm going to be with this person forever,' and realized, as I grew, that I don't know if forever is possible. Gabriel and I don't look at our relationship in terms of forever, we look at it as right here today. And today means being the best people we can be, the best parents we can be. It's wonderful, but neither one of us feels the need to attach ourselves to each other for life – because it may not be that."
On taking care of Nahla: "When I'm not filming, I'm pretty hands-on with Nahla, and so is Gabriel; so much so that he's my nanny – that's what I tell him. I'm just kidding. But we work together so well on the childcare."
On balancing work with motherhood: "Motherhood will always be my priority now, especially because I had a child for the first time at 41. My priority had been myself for a long, long time, but now it will always be Nahla. You think you know what love is – until you have a child and discover that unconditional mother love. I believe that in order to be a good parent, I've got to be happy myself, and making movies is my form of expression – so I will find a way to balance the two."
To see more photos of Halle just read more.