Photos of Heidi Klum on the Cover of Page Six Magazine
Heidi Klum Is Ready to Pop on Page Six
Heidi Klum struck a sexy pose for the latest cover of Page Six magazine. The Project Runway host rarely shies away from talking about her postbaby workouts or how she stays fashionable with a bump, and now she's sharing all sorts of details about her fourth pregnancy. She sat down to chat about her changing physique, losing weight, and her love for Seal. Here's more: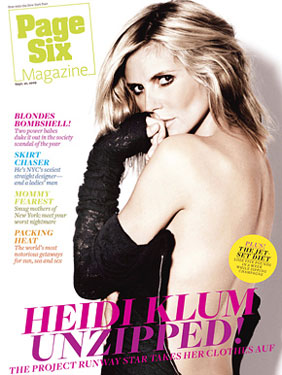 On how her body is changing now: "The last month is unbelievable, how rapidly your stomach goes. It's huge. The thighs, the butt — everything explodes in the end."
On her postbaby body: "It's bizarre. Just as it's a miracle that you can grow a human being in your belly, it's a miracle that your body goes back to normal again. I don't think you ever get back to exactly the way you were, but you do get close. And I'm happy with that. Especially when you see your kid for the first time."
On what makes Seal "The One": "Aside from his sexy stature? He's a gentle giant. We're very into family values. If you come to our house in L.A., you'll see that it's not a big, museum-like house where you can't touch anything or sit anywhere. It's a family house, where three children are living. We have toys all over the place."