Photos of Heidi Klum with Johan, Henry and Leni in LA
Heidi's Excited About More Runway, Fashion and Sandcastles
Heidi Klum brought Johan, Henry and Leni to the playground in LA for some fun in the sand yesterday. Even if Heidi keeps it casual in her real life, she's always dressed perfectly on Project Runway— check out how to get the looks on CelebStyle. While season five has only two episodes left, she's already hard at work filming season six in LA despite its questionable future. She recently talked to the LA Times about it: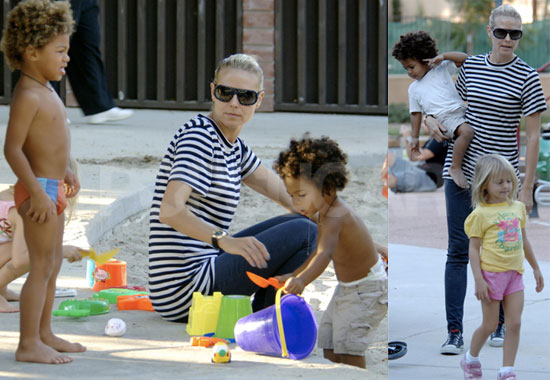 On filming in LA: What has been really great is that — especially with Nina [Garcia] and Michael [Kors] not being here all the time because they also have a lot of work to do in New York City — is that we've had so many great stars come on the show, which I think a lot of people enjoy watching. And I always love to hear their point of view, because most of time you don't hear that. Our cast here is so excited when they see the guest judges, they just flip out. We're working as planned. We're already done six episodes. And we have about 2 1/2 weeks to go. We're working away. The designers are working away.
On whether people ask about the fate of the show: Not to me. Everyone is excited to be here, everyone is staying here until 9, 10 at night. And everyone is very positive. Because these designers, you're blown away with what they do. We're all happy to be here and we're all happy to be working. So we all hope it will come out as planned.
We know Lindsay Lohan and Eva Longoria are lined up already and we can't wait to see who else . . . whenever the show makes it onto the air.
To see more photos of Heidi and the kids just read more.