Photos and Interview From Anne Hathaway's W Magazine October 2008 Issue
Anne Opens Up About Raffaello While He Pleads Guilty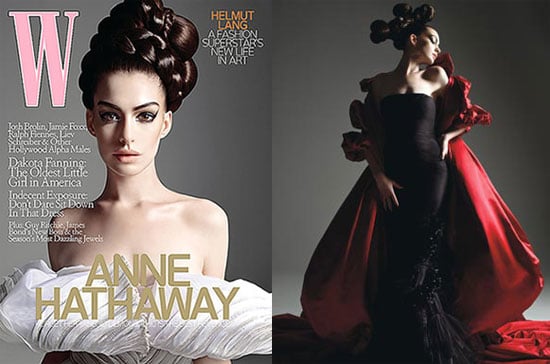 0
Anne Opens Up About Raffaello While He Pleads Guilty
Anne Hathaway looks regal on the October cover of W magazine, but inside she gives the first peek into her fragile state talking about everything that happened in the wake of her breakup with Raffaello Follieri. The ex in question, Raffaello, pleaded guilty to all 14 counts against him today in an attempt to get less jail time and will be sentenced on Oct. 3, just the latest in the ongoing saga. Anne's interview took place three weeks after her breakup and his arrest, and while the actress is far from over it, she seems ready to emerge stronger than ever. Here are some highlights:
On when the news broke about Raffaello: "Right now I don't have the wherewithal to be anything except professional. As soon as I found out about the arrest, I had to get on a plane to Mexico to do a press tour for Get Smart. And then I spent a week in shock at a friend's house. And then I had to go back and do more press, and I haven't stopped since."
On moving on: "I was up in Nyack [New York] the other night visiting Jonathan [Demme] and his family. They all had so much going on. And I just started to cry because I thought, I don't have a life right now. And I haven't for some time, and I just haven't noticed."
On her friends' support: "It's a situation where the rug was pulled out from under me all of a sudden. But just as suddenly, my friends threw another rug back under me. One said, 'Go stay at my house.' And Steve Carell stepped up for me during an interview when someone asked a question [about it]. He said, 'At some point you're going to have to talk about this time in your life. You don't have to do it this week. I'll take care of anything that comes your way.' I've been shown such kindness. Not everyone gets that. A lot of people go through tough times alone."
It's heartbreaking to read Anne's words talking about the ongoing situation, but at least it sounds like she has an excellent support system ready to help her get through it. Hopefully soon enough we'll see that famous smile back on her face as she moves on.