Photos and Interviews With Ashton Kutcher and Ashlee Simpson on Mischa and Jessica
Ashlee and Ashton Promote Their Shows and Tackle Tough Questions
Ashlee Simpson and Ashton Kutcher both took the stage at the CW TCA press day in Pasadena this morning to promote their new projects. Ashlee was in the middle of her Melrose Place costars while Ashton fielded questions about executive producing The Beautiful Life. The cast of Vampire Diaries also introduced their hot new show, which of course meant questions about Robert Pattinson and check out more details on Buzz. With Ashton, the question on everyone's mind was Mischa, and he assured everyone that she has not been recast or missed a day of work.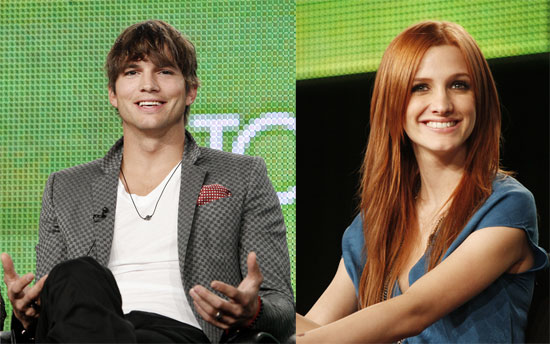 To see quotes from Ashton on Mischa as well as what Ashlee had to say about her character and Bronx just read more.
Ashlee on what Pete and her family thinks about the show: He loves it! He's happy for me. He's seen the pilot. He's like my best friend so I do tell him the storylines — I don't tell anyone else! My whole family has seen the pilot and they love it. I never really watched too much TV until I got pregnant, so I'm excited to be a part of that.
Ashlee on the chance of Jessica guest-starring on Melrose: No, no. I mean, that would be so much fun, but I think we've mixed enough family and work, so for now we're good just being sisters.
How Ashlee celebrated getting the part: I went to sleep at 10 with my son!
Ashton on Mischa's role: The great thing about Mischa for this show is that she's done it before. We have a lot of young cast members and her navigation and guidance is essential for us as a unit. Mischa will be very prominent on the show. She's one of the lead characters.