Photos of Jennifer Aniston And Gerard Butler Eating Dinner on a Boat And Premiering The Bounty Hunter in Paris 2010-03-28 14:44:57
Jen and Gerard Dine and Premiere Together in Paris!
Jennifer Aniston was pretty in a pink Christian Lacroix gown this evening at the Paris premiere of The Bounty Hunter with Gerard Butler. She was just in Europe two weeks ago for a screening in London, but Jen and Gerard had since returned to the US for a final promotional push before the film opened here on the 19th. Jen traveled to in France on Thursday in order to have time to relax a little and explore the city after her week in LA working on Just Go With It alongside Adam Sandler.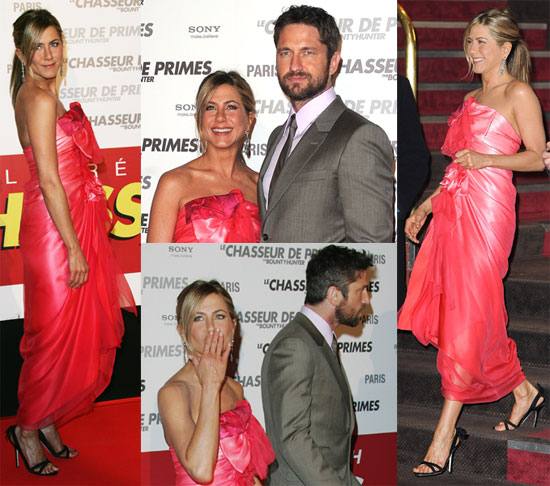 Gerard Butler also arrived in town early, and he joined Jen last night for dinner with friends on a boat that took a scenic tour along the Seine. Despite their obvious chemistry as friends, Gerard and Jen's film had a surprisingly weak opening in the States. It didn't fare any better this weekend with a fourth place finish, but Gerard's How to Train Your Dragon actually took the top spot. He and Jen are going to be sticking together in the coming days for more press dates, including upcoming stops in Madrid and Berlin.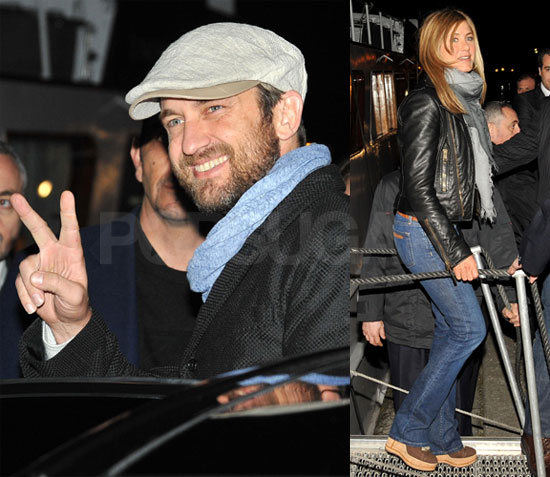 To see more from Jen and Gerard's weekend in Paris, just
.