Photos of Jennifer Aniston at Office in Los Angeles, Quotes From New York Times Interview, Rumor That Angelina Seduced Brad
Jen Avoids Dancing With the Devil
Jennifer Aniston was in business mode with her glasses on as she stopped by an office in LA on Friday. She's had her hands full with work lately as she keeps right on promoting Marley & Me, and her latest interview with NY Times Magazine was released over the weekend. Here are more highlights where Jen weighs in on her geeky side: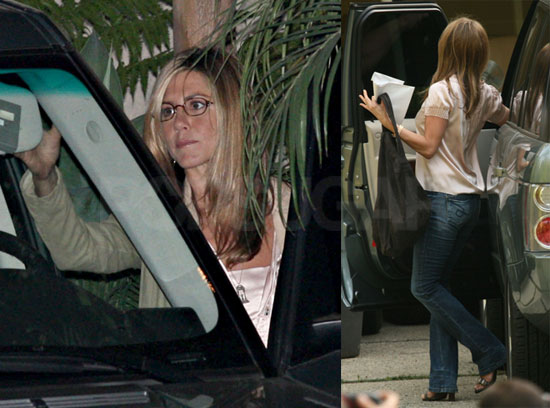 On camera phones: "My favorite move is when people pretend that they're on the phone and they kind of dial and take the picture at the same time. You hope they're doing it for themselves — that they're not thinking, I'm going to dine out on you."
On her first TV appearance: "My dad became a soap opera actor, and I was an extra in a skating rink scene on the soap. I didn't audition. It was nepotism all the way."
On being a part of Friends: "When you accept a role in a pilot, you automatically sign up for five years. You think it's scary to walk down the aisle? Try signing a five-year contract for a show you may not want to be part of down the road. That's why 'Friends' was so great. During the first week of shooting, I thought, I'll be heartbroken if this doesn't continue. It was the first time I felt like part of the cool kids."
To see more photos and hear what Jen has to say about Facebook, just read more.
On Facebook: "It's not for me. I'd be opening myself up too much. I don't want to sound like a complete innocent — I've looked at things, of course. But it's such spewing. If I look at it, I'll be affected. It's like dancing with the devil."
On the internet: "Here's where I luck out: I'm really computer illiterate. When I see people on their BlackBerrys, working them like some girls work a hair dryer, I'm just stunned. People have sent me clips from FunnyOrDie.com or YouTube, but I never seek it out."
Jen has a good sense of humor about herself, and if she ever needs help with technology, we have an idea of who she could turn to.