Photos of Jennifer Aniston at Sunset Tower, Interview With Parade Magazine
Happy Jennifer Aniston Can Fight Dirty If Necessary
Jennifer Aniston grinned as she left one of her regular spots, Sunset Tower, in LA last night. She's been working hard to plug her new film with Aaron Eckhart, Love Happens, which also made Buzz's list of Fall romances to watch. The story has Jen's character falling in love with a self-help author and the actress opened up in an interview about her feelings on advice books and more. Here are some highlights: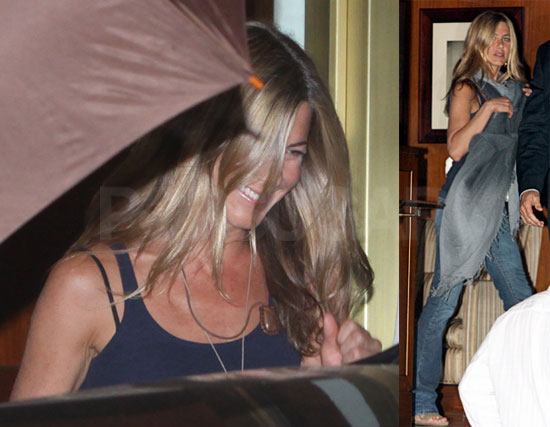 On reading self-help books: "I'm always going to be interested if somebody gives me a self-help book. I'll at least give it the first couple of pages because sometimes they speak and sometimes they don't. But they're worth investigating. I say to people who look down their noses at motivational books, 'Screw them.' I'm telling you, people have got to mind their own business. It just shows, so obviously, their own fear or resentment. They put down somebody else's choice to sort of make themselves feel superior. They could probably use a little self-help themselves."
On her arguing style: "I'm not a fighter, I'm a discusser. I could probably use more fight in me. I don't yell. I talk. I can get dirty. I've been guilty of dirty fighting. But usually I don't like to fight. I like it to be harmonious and fun. So the quicker we can discuss an issue and get through it, the sooner we get back to the fun."
On her personal life: "I feel like it's no one's business. I don't know about your life. I don't want to, truthfully. It's not my business. It's a very strange thing. But somehow it's like there was some clause somewhere that said, 'Well, you're a public person, so we get to go into your house and search through your drawers.' I don't know who came up with it because I wouldn't have signed on. I don't think anybody would have."