Photos of Jennifer Carpenter, Isabel Lucas, Johnny Depp, Keith Richards, Julie Benz, Justin Long at the 2009 Spike TV Awards
Taylor, Johnny, Megan & Vampires Make Scream Awards Sexy
The Spike Scream Awards took over the Greek Theater in LA on Saturday night, bringing together the biggest names in Horror, Fantasy, Comics and Science Fiction. Vampires were of course some of the biggest winners of the night and the stars of The Vampire Diaries and True Blood were all in attendance. Kate Bosworth presented a statue to Alexander Skarsgard, amid rumors that there's something going on between them. Taylor Lautner was the only Twilight representative and debuted the "Behind the Scenes" New Moon footage, which wasn't much though more may come when the show actually airs. There were rumors that Kristen Stewart would make a cameo since she was back in LA, but fans were still satisfied to see sexy Taylor representing and all the shirtless Wolf Pack in the footage from the upcoming film. Johnny Depp accepted a spike for the incomplete Alice in Wonderland as well as presented an award of immortality to Keith Richards. Megan Fox expressed her gratitude to the Transformers franchise while Stephen Moyer had one of the sweetest moments of the night when he thanked the True Blood producers for being "surprising matchmakers."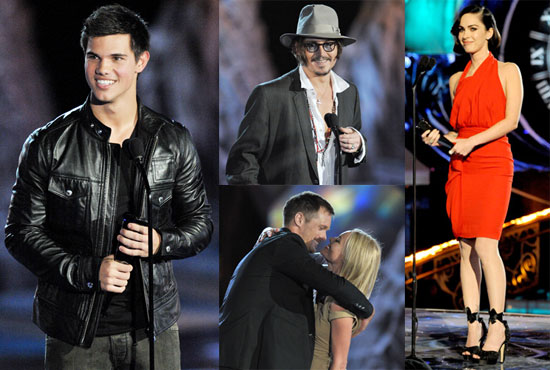 On the red carpet, one of the night's winners Isabel Lucas chatted about spending last Halloween with Shia LaBeouf, though she admitted that the holiday isn't huge in her native Australia. She looked great in her Chanel dress and Jimmy Choo shoes even without getting a drop of sleep the night before. Eliza Dushku was sexy posing for the cameras and presenting with Dave Navarro — garnering cheers from her fans the whole time. Justin Long was out to support one of the night's big winners Drag Me to Hell and was friendly as he made his way into the awards. The show features some great exclusive footage from upcoming films and TV events like V, check out our first hand take on what to expect and get excited for the big awards on today's PopSugar Rush and when it airs October 27!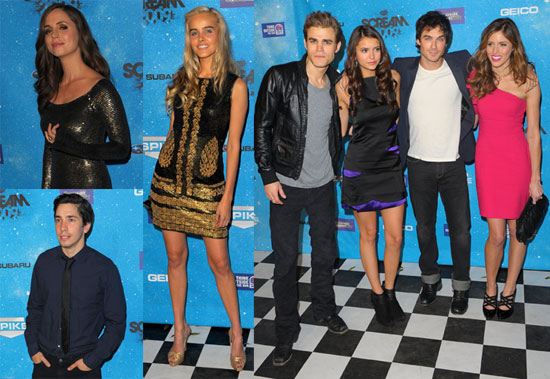 To see more from the show and red carpet including Jessica Alba, Julie Benz, Tobey Maguire, Stan Lee, Stephen Moyer and others just
.
Images include: Jennifer Carpenter, Isabel Lucas, Johnny Depp, Patti Hansen, Keith Richards, Julie Benz, Justin Long, Eliza Dushku, Paul Wesley, Ian Somerhalder, Nina Dobrev, Jaime King, Megan Fox, Taylor Lautner, Alexander Skarsgard, Kate Bosworth, Jessica Alba, Liv Tyler, Christina Ricci, Tobey Maguire, Stephen Moyer, Stan Lee, Woody Harrelson, Harrison Ford, Elijah Wood, Dave Navarro, Anna Paquin