Photos of Jennifer Garner, Ben Affleck, Charlize Theron And More Celebrating Matt Damon's American Cinematheque Award 2010-03-29 05:00:00
Matt Damon Is Celebrated and Roasted by Ben, Jennifer, Charlize, and George!
Matt Damon was the center of attention on Saturday night as he received American Cinematheque Award in LA with his family and close friends there to celebrate. The proceedings didn't get too serious, since Matt's friends like Ben Affleck, Jennifer Garner, and Charlize Theron all took the stage to take good-natured pokes at him. Jennifer kicked things off by joking about Matt and Ben's legendary friendship — she said, "Ben is half of one of the greatest love stories ever told. Not with me. The actual prototype for the great Hollywood Bromance . . . Here's proof that love is alive and well in Hollywood. At least for my darling husband and my husband's darling husband."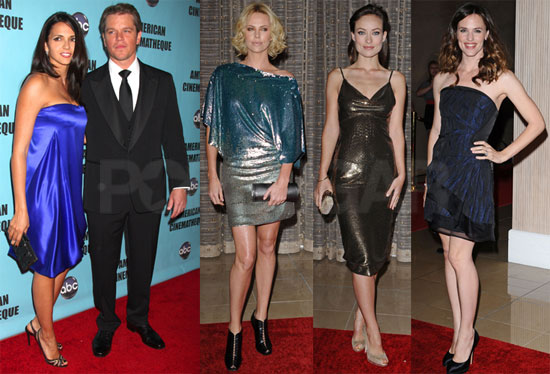 Ben, meanwhile, supposedly quoted Matt's father upon hearing that his son would play the lover of Michael Douglas's Liberace. According to Ben, the elder Mr. Damon said, "'Terrific Matt. I can't wait to see you up there blowing Michael Douglas under a piano while he's playing 'Stardust.'" Matt's tributes also included a video message from George Clooney, who delivered his thoughts from the middle of what looked like a prostate exam, as well as one from President Clinton. Luciana Damon was there to support her husband, and the duo shared one of the evening's sweetest moments with a hug backstage. Matt finally was able to humbly accept the honor, with Ben by his side. Matt said, "Ben, my hetero-lifemate. You're my best friend, and there's nobody in the business I hold in higher regard. I can honestly say that next year, at this time, Ben could be here. . . presenting this award to someone else."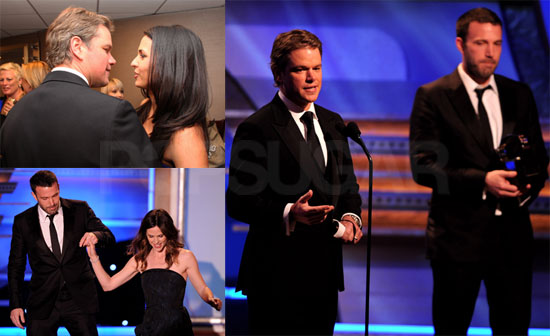 To see more from Matt's big night, just read more.