Photos of Jennifer Lopez in St. Tropez
Jennifer Is Free to Shop Now That She's Locked Down a Nanny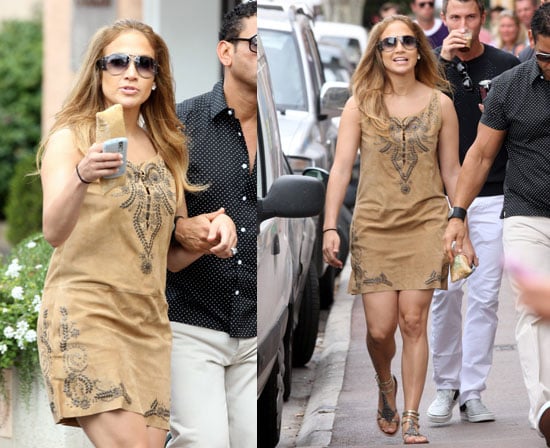 0
Jennifer Is Free to Shop Now That She's Locked Down a Nanny
After a busy weekend of participating in a triathlon immediately followed by a birthday bash for Marc on the opposite coast, Jennifer Lopez has been treating herself to a little vacation in St. Tropez. Today she was spotted shopping around town before climbing back aboard Domenico Dolce and Stefano Gabbana's yacht. In a recent interview, J Lo revealed that she's hired a nanny to help with the twins, which explains how she has more time for her fitness, career, and shopping these days. Here are highlights:
On finally getting help with the babies: "I did it for a long time but we started using a nanny a few weeks ago. [Most days] I get up early with them. Then when the nanny comes, I can take a shower and give them their breakfast. She's there to help me get things done."
On spending time with the twins: "When they see you and have that big smile on their face – I live for that. And when I put them to bed at night and they melt in your arms. I give them a bottle and wind it down. I say, 'It's time for beddy-bye.' I hold them and sing a little song. By the time you know it, they are asleep."
To see more photos of J Lo shopping and hear what she has to say about balancing her career just
.
On balancing a career: "It's gonna be a learning experience. How will I do both? I try to take breaks from work. I'll do a little work with the choreographers and then come back. I try to spend every free moment with the babies."
Most of you predicted back in May that Jennifer and Marc wouldn't last long without a nanny, so we're not surprised to hear that they finally come around. Plus, now she'll have some time to visit with her sister who recently welcomed a baby girl of her own.