Photos of Jessica Biel and Justin Timberlake at a Summit on the Summit Event 2009-12-10 10:30:13
Jessica Climbs, JT Just Supports Kenna's Kilimanjaro Summit
Justin Timberlake and Jessica Biel stopped by Voyeur nightclub in LA last night to show their support for their friend Kenna, who is leading Jess and other celebrities up Mt. Kilimanjaro for charity next month. There are still ongoing rumors of trouble between JT and Jess, but they looked low-key together last night. On the red carpet, Kenna talked about how the Summit on the Summit project came to be, saying that JT was the first celebrity to show interest but won't actually be able to attend since the date changed so many times and he is busy filming Social Network. Jessica is picking up Justin's slack and taking part in the rigorous seven-day climb, and her trainer, Jason Walsh, revealed her secret to staying so fit.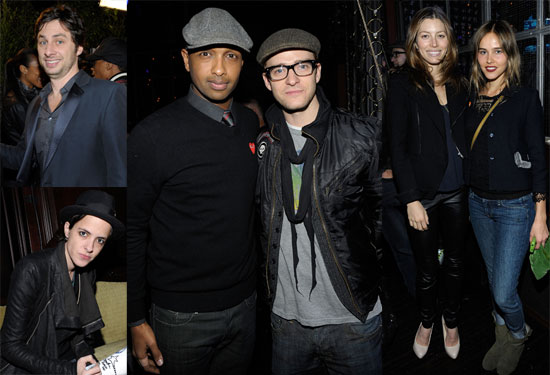 Kenna teared up as he gave a speech thanking everyone for their support, especially fellow climbers like Jess, Isabel Lucas, and Lupe Fiasco. Of course he also had love for their sponsors and partners like HP, Pur, and Bing — find out more about it and how to get involved on the website. Samantha Ronson played DJ for the night, and Zach Braff stopped off to joke about his own lack of endurance and thoughts on the revamped new season of Scrubs, joking that you just can't kill the show.
To see more from the event including JC Chasez, James Van Der Beek, JoJo, and others just read more.
Images include: Jessica Biel, Justin Timberlake, JC Chasez, Kenna, Zach Braff, Isabel Lucas, JoJo, Samantha Ronson, Pharrell, James Van Der Beek