Photos of Jessica Simpson and Daisy at LAX on Her Way to California State Fair
Jessica Simpson Loves Burping in Front of Us
Start Slideshow
ADVERTISEMENT ()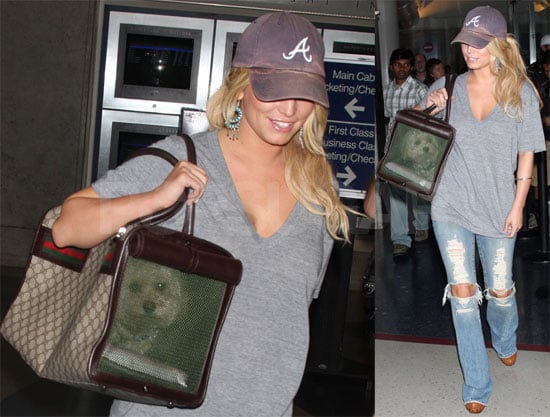 0
Jessica Simpson Loves Burping in Front of Us
Jessica Simpson played it casual arriving at LAX yesterday while Daisy looked pretty glamorous in her Gucci carrier. Most of you weren't fans of Jess's new beer ad or her comments about Carrie and Tony, but she's still trucking along with a smile. The singer is performing at the California State Fair tonight and talked to the Sacramento Bee to get everyone ready for her performance. Here are highlights:
On her new album, Do You Know: "I hadn't been singing for a long time, and I finally got to that place where I was comfortable opening up again. I'd been going through a divorce, and I wasn't really strong enough to [sing]; I had to go through the hurt and healing. I had to sit back and relax and go through everything like a normal person would. Out of that came the music, and out of that came the record."
On the biggest misconception of her: "I don't know if I could pick just one. Ummm, that I'm just in it for the money and the paparazzi — they really think that what they see in the tabloids is how I live my life. When we did Newlyweds, I felt that people really got to see me for who I am — the fun side of me, the hardworking, normal girl who burps and falls flat on her face."
To hear what Jess has to say about doing more reality TV shows and how people judge her going country just
.
On whether she'd do another reality show: "No! Oh no! At this point, I'd much rather just share myself on stage, through my music."
On people's judgment of her going country: "They're already judging me — how can they judge someone who's just being honest? I don't do music for money, I do it because I have to."