Photos of Jessica Simpson Singing at Lowe's Motor Speedway Nascar Bank of America 500, Recently Said She Wants Six Children
Jessica Simpson Gets Racy and Talks Babies
Jessica Simpson slipped into mini black shorts to perform at Lowe's Motor Speedway before the Nascar Bank of America 500 on Saturday night in Concord, North Carolina. While she may have messed up the words to the National Anthem, she's no stranger to embarrassing moments and she talked about that and more after. Here's more: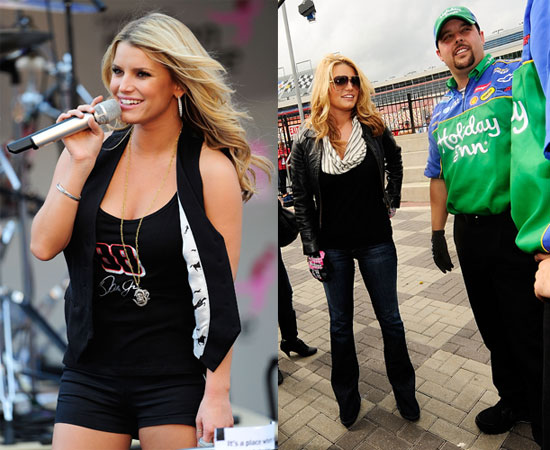 On her album: "This album has been a journey of discovery. When you go through a divorce, you become numb. [...] This album was a therapeutic experience. Many of the songs are about people the world hasn't even heard of, but if the people in question listen, they'll know who they are."
On Nick and Newlyweds: "I don't regret the show or my marriage. Not at all. It made me who I am. I admit I'm a ditz and I've had my moments; I'm the first one to walk onstage, trip up in front of thousands of people and split my pants, but I don't take myself too seriously. However, I do look back on that girl and go, 'Oh Lord, she had a lot of growing up to do."
On babies: "I'd love six kids running around, but I guess I'll have to start pretty soon. I can't wait for [Ashlee's] baby to come. I already feel as if I'm an aunt because I talk to that baby all the time. I'm really close to my sister and since she's pregnant right now, she's always around, which is great."
Jess is eager to talk about how happy she is right now which we love to see. While she constantly causes controversy, there's a reason why she sells covers and at least she's able to laugh at herself too.
To see more photos of Jess at the Nascar race just read more.