Photos of John Mayer on the Cover of Details Magazine 2009-11-24 15:30:00
John Continues to Share All the Details
John Mayer was proud to show off his colorful tattoo sleeve on the December cover of Details. He's out and about talking about his latest album, Battle Studies, but in typical Mayer fashion John didn't only speak about business. Just like in his recent interview with the New York Times, John quickly got candid about his personal life. Here's more: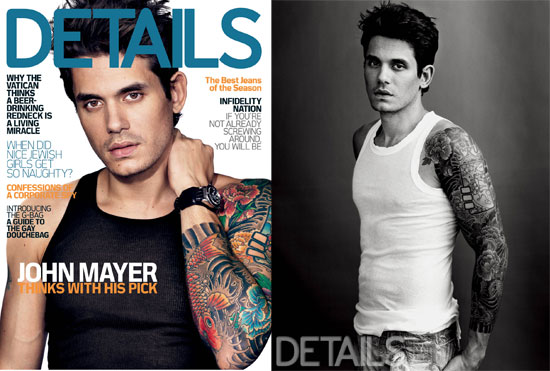 On his relationships with Hollywood's leading ladies: "You just never know who's going to come into your life. To my mind, the only thing sicker than saying, 'Wow, you're a famous person and it would do a lot for my career to go out with you,' is to say, 'Wow, you're a famous person and I like you and all, but I can't do that to my career.' I don't think either of those is a good option."
On his unexpected collaboration with country star Taylor Swift: "I don't know if you know, but I'm not exactly Bob Dylan — I'm already a pop musician . . . I want to reach as many people as possible."
His music vs. his celebrity persona: "Sometimes I feel like I do two things for a living. I make records and I talk to people. The record is much, much better than any interview I can give — you'll walk away from the record liking me a hell of a lot more than you would walking away from an interview."