Photos of Johnny Depp, Marion Cotillard at Public Enemies Premiere in London
Johnny Depp Is Who He Wants to Be
Johnny Depp and Marion Cotillard looked glamorous at the Public Enemies premiere in London earlier today. Over the weekend he was turning heads in NYC but now he's back to promoting his new film. Johnny recently spoke about why the movie is relevant in our current economy and also discussed staying true to himself. Here's more: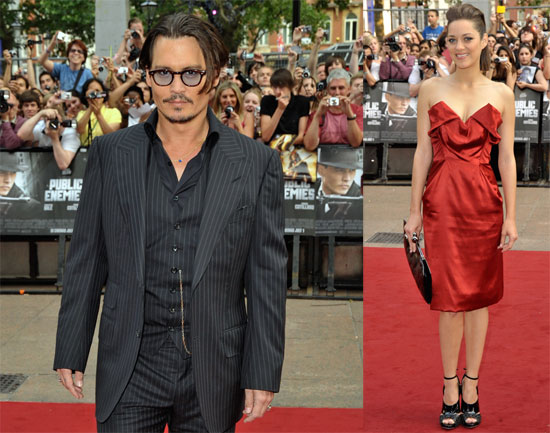 On his character robbing banks: "Back then the banks were the enemies. We're learning today that they've been the enemies yet again. So when it comes to Dillinger, isn't it somehow nice to see the underdog kind of take control, even if it was another time?"
On what's important to him: "My kiddies are getting bigger. My daughter's 10 and my boy's 7. The greatest thing is just the sort of beauty of watching my kids grow up and become little adults."
On his advice about growing up: "Remember that you make your own reality. You don't have to stay in a little shell that was hammered out for you from childhood. We're all conditioned to live the way our parents want us to live, and that turns people into serial killers sometimes. At a certain point you have to come out and live your life the way you want to live it. I had to fight to retain my individuality. I'd get agents who'd say, 'Well, what are you fighting against? Why are you going against the grain?' But I knew that if I continued on in the way that they wanted me to, it was death. It's just a question of standing straight and saying, 'No. I'm not going to be what you want me to be. I'm going to be what I want to be.'"
To see more photos of Johnny and Marion, plus Terri Seymour, just read more.
Images include: Johnny Depp, Marion Cotillard, Branka Katic, Stephen Graham, Michael Mann, Terri Seymour