Photos of Johnny Depp Promoting Public Enemies in Japan 2009-12-09 07:45:00
Johnny Hasn't Seen Public Enemies but Is Happy to Promote It
Johnny Depp was in Tokyo this morning for a Public Enemies press conference. Japan is a usual stop on the international promotion circuit, and Johnny looked fresh-faced despite only arriving yesterday morning. Public Enemies is already out on DVD in the US, but it's due to hit the big screen in Japan this Friday. Even so, it doesn't appear as though Johnny has seen the film yet. At today's event, he opened up about seeing the project and also discussed whether he has any enemies of his own. He said: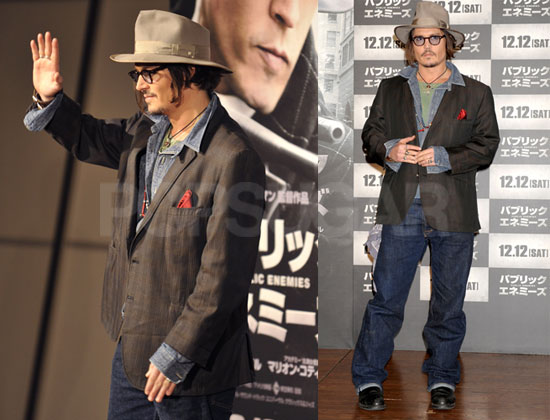 On Public Enemies: "I haven't seen the film yet, but I hear great things about it.
On if he has any enemies "I don't think I have any enemies, really . . . The scariest enemy is within, allowing yourself to conform to what is expected of you."
Hopefully he's getting a little rest, since another project was just confirmed to be on his already busy schedule — production on Dark Shadows, his next collaboration with Tim Burton, is set to start next year.