Photos of Justin Timberlake, Jessica Biel, Mary Kate Olsen, and Nicole Richie at New York Fall Fashion Week 2010-02-18 06:00:00
Fashion Week Carries On With Justin, Jessica, Mary-Kate, and Kelly
The Fall Fashion Week shows continue in NYC, with Justin Timberlake showing off his new collection for William Rast last night alongside his design partner, Trace Ayala. Jessica Biel was there in a leather jacket to see their designs after taking a snowy stroll with JT, though she changed into a strapless top to attend Victor de Souza. Nicole Richie showed off her engagement ring on the way into Nanette Lepore, where a very grownup looking Abigail Breslin caught up with Kelly Osbourne. Kelly had her eyes on the runway, but she also took a minute to open up about her upcoming wedding to longtime boyfriend Luke Worrall.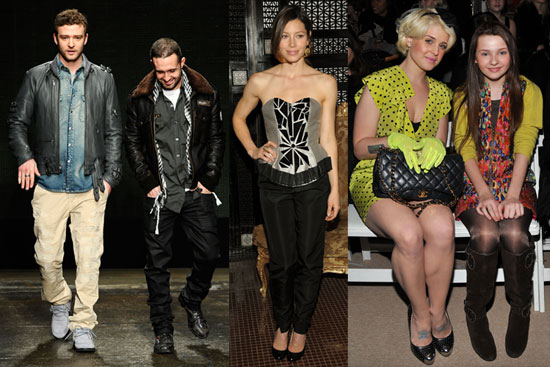 Proenza Schouler brought out more big names, with Mary-Kate Olsen and Selma Blair front and center. Nicole Richie took another break from promoting her own line to check out designers Jack McCollough and Lazaro Hernandez's new clothes, a sight which even caused Anna Wintour to take her sunglasses off! The final shows in the Big Apple wrap up today, so make sure to stay tuned to Fab and Bella for all the latest before the shows move to London.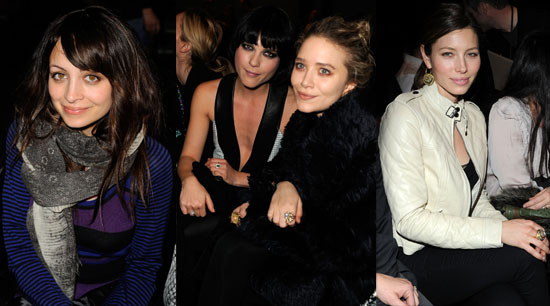 To see more photos from Fashion Week, just read more.
Images include: Rachel Zoe, Justin Timberlake, Jessica Biel, Nicole Richie, Selma Blair, Chloe Sevigny, Mary Kate Olsen, Anna Wintour, Molly Sims, Kelly Osbourne, Estelle, Abigail Breslin, Jessica Stroup, Julia Stiles, Patricia Field