Photos of Kate Hudson in Harper's Bazaar With Ryder Robinson 2009-12-02 10:00:00
Kate Hudson Brings Her Bright Smile and Honesty to Harper's
Kate Hudson flashes a gorgeous smile on the cover of Harper's Bazaar's January issue. In an interview with the magazine, she gushes over her special bond with Ryder as well as Alex Rodriguez. Kate goes on to talk about pregnancy rumors, her relationship with ex Chris Robinson, and her role in Nine. We saw her posing for these photos just a few months ago, and the end results look fantastic. Here are the highlights: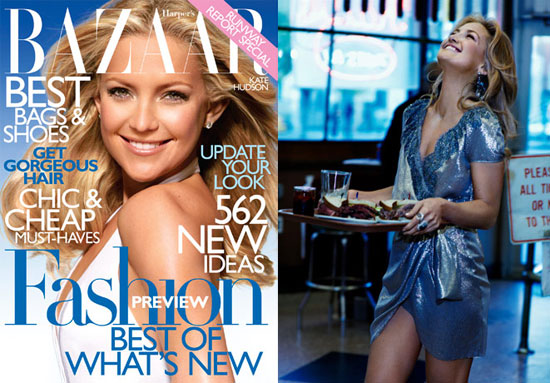 Kate on pregnancy rumors: "I'm not pregnant . . . I can't go two months without being pregnant, engaged, or breaking up because I'm too needy, which is always the one they love. I'm not needy. You kind of have to laugh it off, but it can kind of screw up other things around it."
On plans to create her own clothing line: "At heart, I'm such a hippie . . . I don't like structured things. I'll put on a tight, sexy little thing that I can't walk in, and that's fun. But I like the flowy and comfortable. I just want to make really beautiful clothes that I want to put on every day."
Kate on her parenting techniques: "I'm a pretty strict mom, which is funny," she continues. "I didn't think I'd be so strict. I feel like he is so great, he's such a good kid, people really connect with him, they want to give him things and do things for him, and I'm like, no. The next thing you know, you have the kid who's being cute in order to get something."
For more photos of Kate and to see what she has to say about plastic surgery and more just
Kate on plastic surgery: "If I need to go under the knife . . . I'm the first one to say I should. But nowadays when you go into a dermatologist's office, they have so many things. What else are they going to come up with? We're gonna end up going into a tank one day and coming out with, like, the perfect face."
On taking on singing and dancing for Nine: "My parents always said, 'You came out singing and dancing.' I would take any microphone. I was always talking to myself in mirrors, dancing in mirrors."