Photos of Kate Hudson, Ryder Robinson, Oliver Hudson, Goldie Hawn, Elle Macpherson In Aspen For Christmas
Kate and Ryder Join the Rest of the Family and Elle in Aspen
Kate Hudson and her son Ryder hopped on a private jet yesterday and headed to Aspen where they met up with the rest of the family for their annual holiday vacation. Goldie Hawn and Kurt Russell were also spotted in the Winter wonderland, though they were in LA over the weekend to attend Kate's star-studded and festive party. Oliver Hudson spent the afternoon around town yesterday with his pregnant wife Erin — they're expecting baby number two soon. It wasn't all about family time, however, since Kate also met up with Elle Macpherson for shopping. If you're embarking on some last minute present buying of your own, we've got you covered on our gift guides!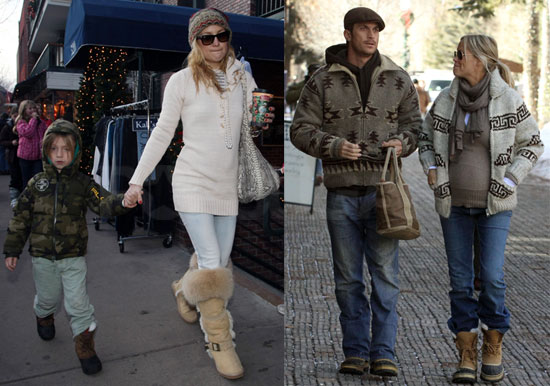 Ryder tried out his skiing skills on the mountain last Christmas so perhaps we'll get to see how he's doing with another year under his belt. The Hawn-Hudson-Russell family always spends the holiday together in Colorado and despite all the time they spent together during the baseball playoffs we don't expect to see Alex Rodriguez getting in on the fun. Goldie and Kurt are said to be helping Kate get over A-Rod, and nothing helps that out like a little getaway with loved ones and friends.
For more photos of Kate's trip to Aspen, just
.