Photos of Kate Moss in London as She Launches New Perfume 2009-11-13 16:30:41
Kate Moss Opens Up About Her New Perfume, Says Nothing Tastes as Good as Skinny Feels
Kate Moss was back in one of her favorite fur jackets for an evening out in London on Thursday. She's able to balance the demands of her career and social life, and Kate just added another element to her growing business empire. She's set to launch a new fragrance called Vintage, with hair and beauty products to follow. She sat down with Women's Wear Daily to chat about her business, touching on a few issues like her impressions of herself and the maxims by which she lives. Here's more: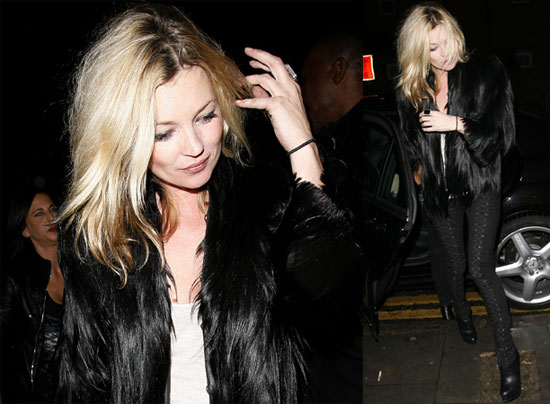 On her definition of beauty: "It sounds really corny, but I think that if you're beautiful inside, it shows on the outside for sure. You can be a pretty face, but if you're not a nice person, it just doesn't work. I'm not traditionally a beauty, but apparently people think I'm all right. If you're a nice person, it definitely helps."
On getting inspired: "I write sometimes, or I'll draw. It all depends what's around. If I'm with my daughter, I'll paint. I make jam. It's kind of creative when you make jam. In the country, I get creative with what I have in my house. I just did my dressing room [with my former personal assistant who now designs interiors] and that was quite a good creative process. It's heaven. We did it together. I wanted it to be a space, not just a closet. I wanted it to be a room you could feel comfortable in and hang out in without just being a wardrobe."
On her mottoes: "There are loads. There's 'nothing tastes as good as skinny feels.' That's one of them. You try and remember, but it never works."
To see what Kate has to say about her business, mentors, and preferred relaxation techniques, as well as more photos, just read more.
On who her mentors are: "My close friends, probably. There are lots of women I look up to, but mentors are someone you talk to and not just admire. A lot of my friends that I trust are my mentors. They would say, "Oh no, Kate, that's not a good look."
On how she relaxes: "I've got a steam room now, I go in there. It's heaven. I steam and then go to the relaxation room and cool off. In the country, I go for walks and hang out and make jam."
On the secret to multitasking: "I think women are really good at multitasking. Men just cannot do it. My boyfriend cannot talk on the phone and [answer] if I ask him a question or get dressed at the same time. I can do all of that — talk on the phone, answer a question, get dressed, and put my makeup on all at the same time. Women just do, don't they? I think it's something to do with babies. When you have a child, you have to be able to multitask."