Photos of Kate Moss, Who's Naked on the Cover of Love Magazine, Leaving Scott's in London With Mario Testino
Kate Has Lots to Say on Bags, Britain, and Branching Out
Kate Moss was in a chic white dress and black blazer last night as she and her photographer pal Mario Testino made the party rounds in London, starting at Harry's before moving on to the bar at the Dorchester Hotel. She's back home in England after a trip to Paris, which was timed so that she could celebrate her Longchamp collection during the couture shows. Kate recently opened up to Harper's Bazaar about design work and to the NY Times about her new bag line, love for England, disdain for sneakers, and her daughter's interest in fashion. She said: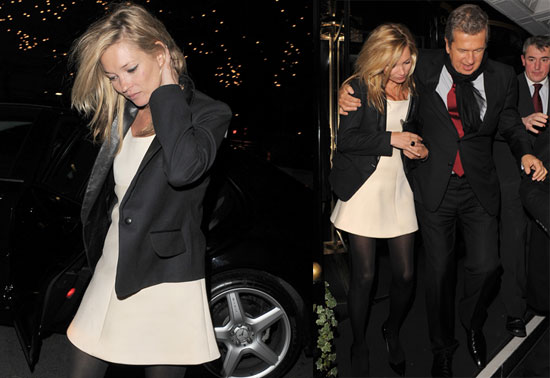 On venturing into bag design: "I know bags, and I always want a bag to be functional and comfortable to hold . . . As a woman with a lot of handbags, they have got to have a bit of flair, not too 'Lady,' with a bit of an edge. And it's really important that Longchamp is an old family company — old school. They know how to make bags."
On her next plans: "To get out my jewelry and say 'this necklace' and 'this bracelet.' Not shoes. I'll leave that to the professional craftsmanship. And I wouldn't do a sneaker — I would do a ballet pump. I bought sneakers thinking they would be good for working out in Ibiza, and I looked down and thought 'That's not my foot!'"
On never leaving her native Britain: "I'm so British. I just like going home. I like the bus stops; I just do. I love the country. I like being able to get in my car and drive myself."
On getting design help from her daughter Lila: "Lila's got her ideas. She's got really good taste. She wants to do her own collection!"
To see more Kate, just
.