Photos of Kate Winslet, Robert Pattinson, Kristen Stewart, and More at the 2010 BAFTA Awards in London
Kristen, Robert, and More Have a Big BAFTAs Night
Kristen Stewart picked Chanel to hit the red carpet with Robert Pattinson last night at the BAFTA Awards in London. The Twilight pair made their way past the cameras separately, but there were many other hot couples happy to pose side by side. Vera Farmiga looked radiant in her white Marchesa gown, while Claire Danes opted for Burberry — who do you think was best dressed of the evening? Prince William made a rare appearance to present an award, leading the procession of tuxedoed men.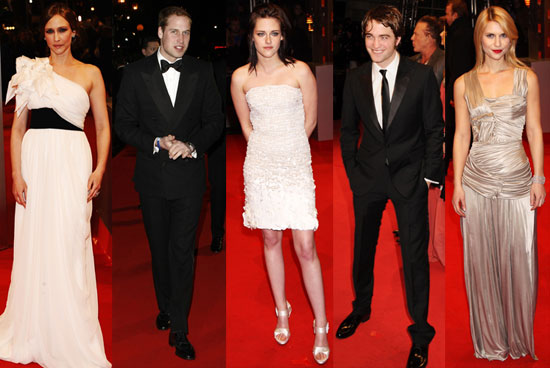 Kate Winslet arrived in England just a few days ago, and she looked radiant in her Stella McCartney gown as she escorted best actor winner Colin Firth into the press room. Anna Kendrick, in Pucci, stuck by best supporting actor Christoph Waltz, and Carey Mulligan was on her own to celebrate winning best actress for her role in An Education. It was a big night for The Hurt Locker, which won best film and best director for Kathryn Bigelow, who had the added pleasure of Clive Owen's company — make sure to check out all the winners!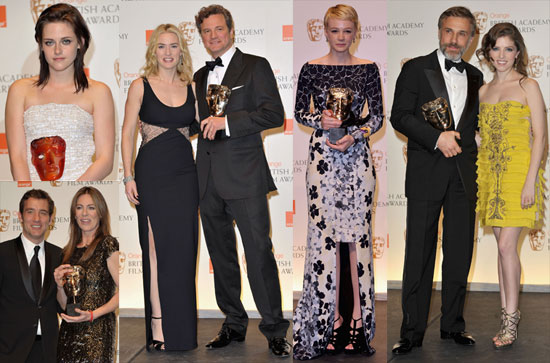 To see more from the BAFTAs, including Rebecca Hall and Tom Ford, just
.
Images include: Anna Kendrick, Carey Mulligan, Claire Danes, Clive Owen, Colin Firth, Jonathan Rhys Meyers, Kate Winslet, Kristen Stewart, Matt Dillon, Mickey Rourke, Rupert Everett, Vanessa Redgrave, Christopher Waltz, Rebecca Hall, Gabourey Sidibe, James Cameron, Joely Richardson, Prince William, Quentin Tarantino, Tom Ford, Sarah-Jane Fenton, Robert Pattinson, Vera Farmiga