Photos of Katie Holmes Opening Night of All My Sons on Broadway
Katie Takes the Stage For Her Official Opening Night!
Katie Holmes hit the stage to perform in All My Sons on Broadway last night, but this time it was different. It was the show's official opening night and Katie's smile was bigger than ever as she took her bow and posed outside after the play. Of course, Tom Cruise was there to support his wife and I'm sure found time to gush even more about her performance at the after party. The only damper on the evening was the protesters against Scientology out to make a scene. After last night's big show, the first reviews are out and while they're a mixed bag for Katie and the production in general, it's a pretty big accomplishment for the actress. Congrats to Katie who deserves every standing ovation she gets.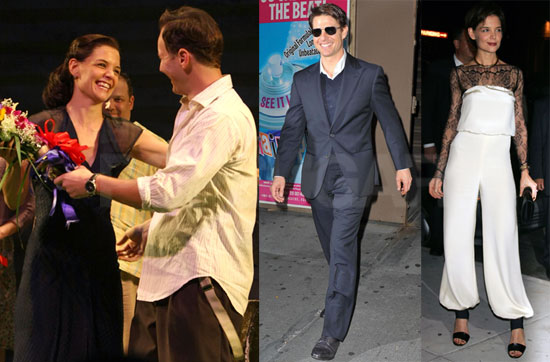 To see more from Katie's big night including Blythe Danner, Barbara Walters, Dianne Wiest, John Lithgow, Patrick Wilson and others just read more.
Images include: Eric Falkenstein, Katie Holmes, Dennis Farina, Simon McBurney, Scott Foley, Marika Dominczyk, Richard Kind, Jessica Seinfeld, Patricia Clarkson, Lauren Graham, Blythe Danner, Barbara Walters, Dianne Wiest, John Lithgow, Patrick Wilson
Pacific Coast News Online, Splash News Online, Source, and Source