Photos of Katie Holmes and Suri Cruise at Nutcracker, Video of Tom Cruise Interview With Matt Lauer Calling Himself Arrogant
Tom Admits His Arrogance While Suri Visits the Nutcracker
Katie Holmes and her parents took Suri Cruise around NYC and to The Nutcracker this weekend while Tom Cruise posed with fans out promoting Valkyrie. Tom recently revealed he needs to work on his acting skills for his toughest critic, Suri, who didn't believe him as Santa Claus last year. As for her Christmas gifts under the tree, Tom said Suri loves dolls and stuffed animals, which isn't such a big surprise. This morning, Tom was on The Today Show to sit down live with Matt Lauer again and talk about their infamous last interview. Tom said of looking back on it: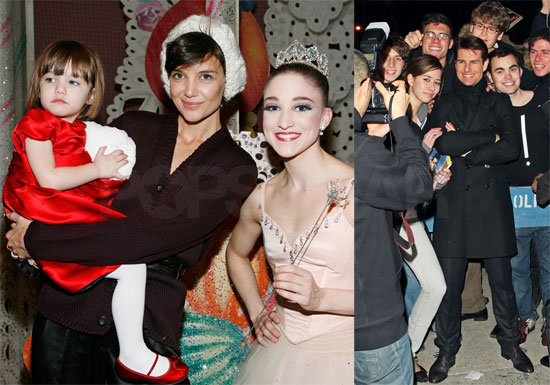 "It's not what I had intended. I thought, in looking at myself, I thought, I came across as arrogant . . . That's one of those things you go 'okay I could have absolutely handled that better'. . . I didn't communicate it the way that I wanted to communicate it. That's not who I am . . . I take responsibility for it and I learned a good lesson."
He went on to talk about his happiness with Katie, his thoughts about more kids, Scientology, and Valkyrie, which you can watch below. To see the video plus more photos of the Cruises, especially adorable Suri with Katie, just read more.