Photos of Katy Perry, Adam Sandler, Kevin James, Jesse McCartney, Anna Faris, And Rihanna at The 2010 Kids' Choice Award 2010-03-29 06:00:00
Stars Risk Getting Slimed at the Kids' Choice Awards!
The stars went from the orange carpet at Saturday's Kids' Choice Awards in LA into the show, where host Kevin James kept things under control amid multiple slimings. Katy Perry had the honor of being doused in the green goo when she was onstage with Jonah Hill, and Date Night stars Tina Fey and Steve Carell faced a similar fate. Zoe Saldana and Robert Downey Jr. stayed dry while announcing Alvin and the Chipmunks: The Squeakquel as the winner of Favorite Movie, and Miley Cyrus was there to take home the Favorite Movie Actress blimp.
Taylor Lautner was a happy camper backstage after he won Favorite Movie Actor and shared the Cutest Couple honor with Kristen Stewart for New Moon — sadly, she couldn't be there since she was off with her costars in The Runaways in Las Vegas. The third in their on-screen love triangle, Robert Pattinson, also missed out due to his being in England with friends. Justin Bieber was there to up the teen heartthrob count, performing a song off his newly-released album. Selena Gomez was so happy to be declared Favorite TV Actress, and Cory Monteith joined his Glee costar Lea Michele to present the TV Actor award to Dylan Sprouse — make sure to check out the whole list of honorees over at Buzz!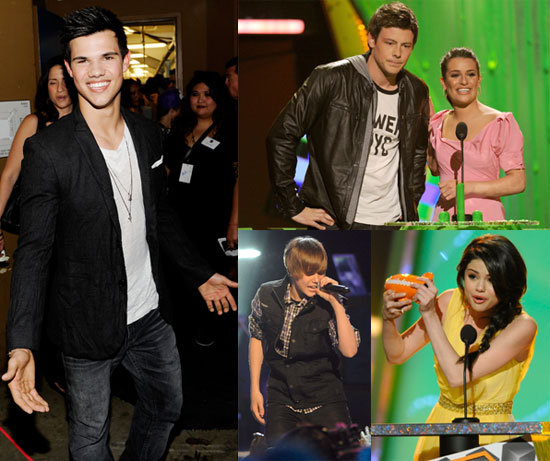 To see more from the show, just
.
Images include: Katy Perry, Adam Sandler, Kevin James, Jesse McCartney, Anna Faris, Zachary Levi, Rihanna, Justin Bieber, Zoe Saldana, Robert Downey Jr, Miranda Cosgrove, Taylor Lautner, Lea Michele, Cory Monteith, Jonah Hill, Selena Gomez, Miley Cyrus, Tina Fey, Steve Carell