Photos of Kellan Lutz and Nikki Reed Inside December's Nylon Magazine
Nikki and Kellan Get Close and Cozy For Nylon
Nikki Reed and Kellan Lutz posed together in Fall tones for Nylon magazine. The on-screen couple looks adorable side-by-side, but in real life Nikki's happy with her boyfriend Paris Latsis and Kellan has been getting close with AnnaLynne McCord. Nikki and Kellan opened up to the magazine about their crazy lives in the wake of Twilight's success and what they do to get away from it all. Here's more: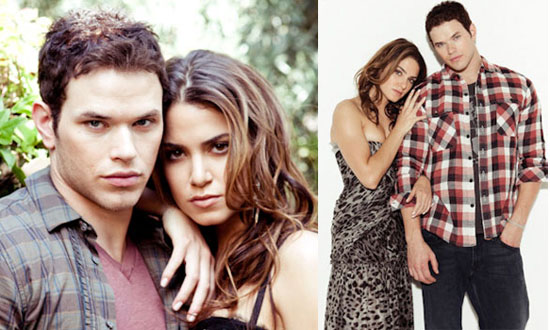 Nikki on the initial success of Twilight: "We were just making a little independent film in Portland. . . I don't know what happened. . . We've lived this entire year in shock."
Nikki on their new costar Bryce Dallas Howard: "Bryce is handling it like a champion. She's beautiful, talented, and a wonderful addition."
Kellan on going out in public: "I used to love going to my local high school football games near my house. And I cant' really go there anymore, without being wise. . . I do have a few wigs, actually. And sometimes I grow my facial hair out. I wanted to walk around Comic-Con this year, so I dressed kinda homeless. But someone recognized me and posted it online. I was like, 'Thanks. Now I can't wear that again.'"