Photos of Kim Kardashian in a Bikini on a Boat in Miami
Pics of Kim Kardashian's Bikini Yacht Afternoon With Kourtney!
Kim Kardashian checked her emails and texts while relaxing on a boat off the coast of Miami today. Kourtney joined her teeny-bikini wearing sister for the luxurious afternoon in the sun, though the new mom kept her post-baby body covered up. The girls also hit up the gym in the morning and clearly all the hard workouts are paying off. Kim has been in FL for most of the week amid more rumors that there's trouble in her relationship with Reggie Bush. Kourtney's own controversial man Scott wasn't seen out with the ladies, though the sisters have been spending time with one of their mutual loves — baby Mason and his adorable faces.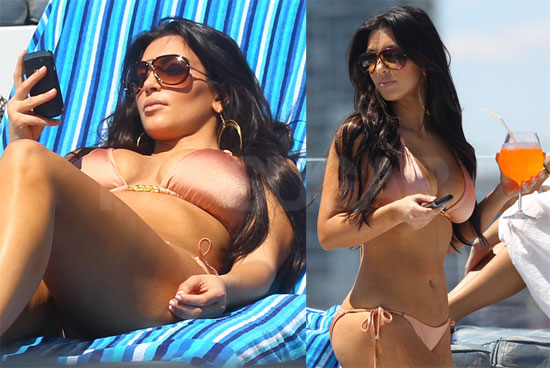 More photos of Kim and Kourtney yachting around Miami
.