Photos of Kristen Stewart Filming Eclipse, Robert Pattinson Eating Dinner With Kellan Lutz In Vancouver
Kristen Emerges as Bella While Rob Stays Covert at Dinner!
It was a busy Friday night in Vancouver for the cast of Eclipse! Kristen Stewart was spotted for the first time back in her Bella hair to film her graduation scenes with her onscreen father Billy Burke. She donned her robe to finish up at Forks High School and Peter Facinelli waved to fans as he left the set. Later in the evening, some of the cast members hit the town for another of their famous group dinners. Robert Pattinson stepped out of the restaurant in his cozy hoodie with his shirtless finals contender Kellan just a few steps behind. Ashley Greene looked sexy in her liquid leggings after dining with her friends. While there are no shots of Robert and Kristen together or looking romantic — Edward and Bella are back for sure after seeing him on set and now her all in costume!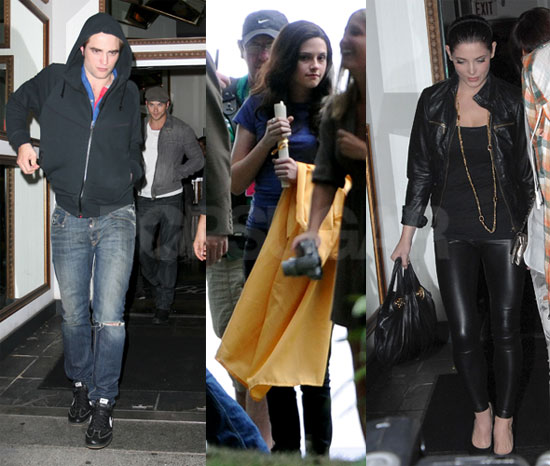 To see lots more of the cast including Kristen Stewart, Peter Facinelli, Robert Pattinson and others just read more.