Photos of Kristen Stewart at JFK After Remember Me Premiere
Kristen Stewart Takes Off From NYC After a Robert Pattinson-Filled Few Days!
Kristen Stewart arrived at JFK this afternoon headed out of town toward LA, where she'll be presenting at this weekend's Oscars. Kristen made a pretty public statement about her relationship with Robert Pattinson last night by arriving unannounced at his Remember Me premiere and sneaking off to the afterparty with him. Kristen impressed us with her quick costume change last night and was once again showing similar hair mannerisms to her man Rob at the airport. Although they arrived in New York together last Friday, Robert is finishing up his promotional work for his movie before heading back to London to film Bel Ami. The lovebirds will probably find a way to be reunited soon enough, but for now it was a treat for Twilight fans and non to see Rob and Kristen semi-step out together.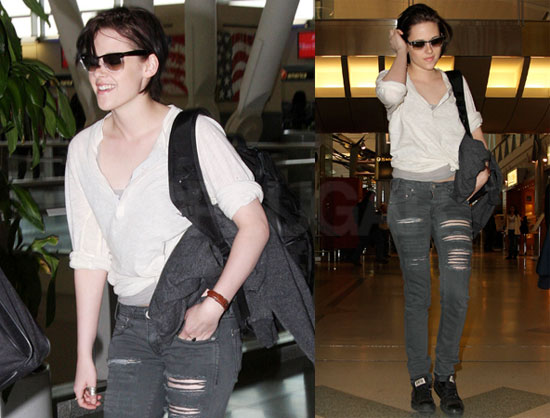 More photos of Kristen so
.