Photos of Kristen Stewart, Joan Jett and Dakota Fanning On The Set of The Runaways in LA
Kristen Stewart Gets Some Guidance From Joan Jett Herself
Kristen Stewart has been getting into character for The Runaways in LA all week and yesterday she had a special guest — Joan Jett herself. The duo sported their matching haircuts on set where Kristen was lucky enough to be able to get some pointers from the rock legend she's set to portray. Dakota smiled big when she joined the real and onscreen Joan Jetts. This project might be a little more mature than New Moon, but Kristen is still pleasing the fan base who helped her and Twilight score so many Teen Choice Awards nods.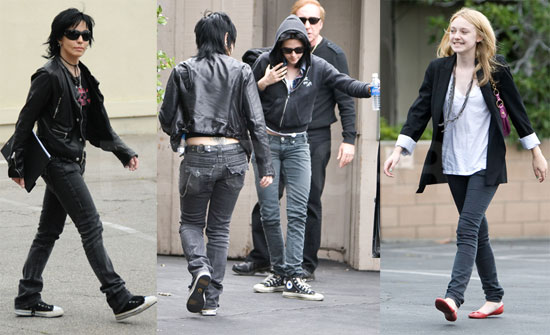 Bauer-Griffin Online and Splash News Online
To see more of Joan, Kristen and Dakota just read more.