Photos of LA Red Carpet This Is It Premiere Paris Hilton, Will Smith, Ashley Tisdale, Michael Jackson's Brothers
Stars From J Lo to Will Smith Honor MJ at This Is It LA Premiere
Michael Jackson's final masterpiece, This Is It hit theaters at midnight last night, with a star-studded LA premiere just a few hours earlier to celebrate. MJ's brothers Jermaine, Tito, Marlon and Randy posed together to support the project while stars of stage and screen came together to honor the King of Pop. Will Smith doesn't do a ton of red carpets these days, but couldn't miss this one and NPH was dapper in black. Ashley Tisdale pulled her High School Musical costar Monique Coleman close while Adam Lambert and Katy Perry looked like two peas in a pod. Michael Jackson's last performance footage has done amazingly well in presales and he clearly has the love of all his celebrity fans and friends — including close pal Elizabeth Taylor — as it hits theaters for a special run.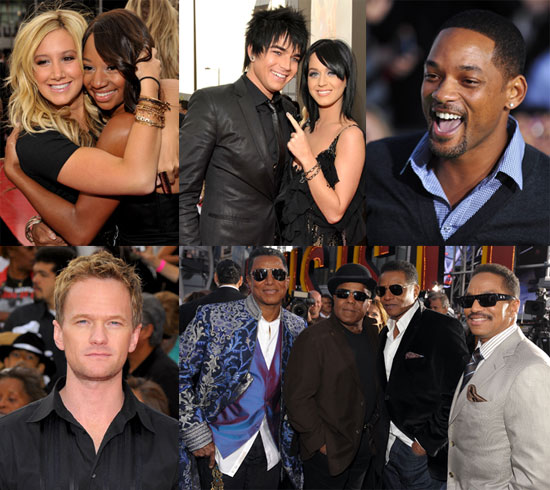 Jennifer Lopez pouted for the camera after another weekend supporting the Dolphins in Miami. Paris Hilton went a little more risqué in her black ensemble while Tisdale paid homage to the man of the night with her vintage t-shirt. Paula Abdul was filled with emotion watching Michael up on the big screen. There will surely be a lot more reactions and praise as crowds flock to see MJ's famous moves in the peek at his preparations for his comeback concerts that never were able to be.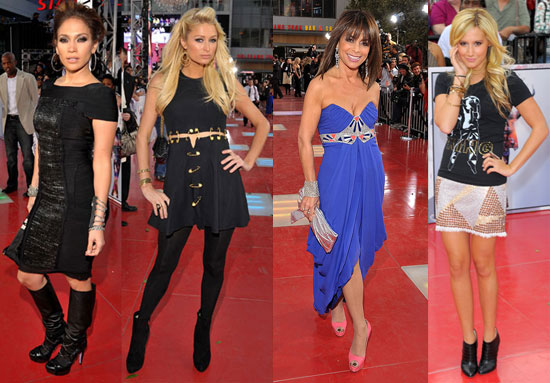 To see lots more from the premiere including Tyrese Gibson, Adam Lambert, Katy Perry, JC Chasez, David Cook, Mario Lopez, Allison Janney and others just read more.
Images include: Will Smith, Jermaine Jackson, Randy Jackson, Tito Jackson, Jennifer Lopez, Marlon Jackson, Christian Audigier, Ashley Tisdale, Tyrese Gibson, Macy Gray, Rosanna Arquette, Jessica Lowndes, Daisy Fuentes, Jennifer Love Hewitt, Anne Heche, Larry Birkhead, Vivica A. Fox, Kathy Najimy, Neil Patrick Harris, Paris Hilton, Paula Abdul, Adam Lambert, Katy Perry, Jamie Kennedy, JC Chasez, David Cook, Mario Lopez, Allison Janney