Photos of Leighton Meester With Her Dog; She Recently Spoke at Teen Choice Awards About Gossip Girl
Leighton Goes From Teen Choice to Puppy Choice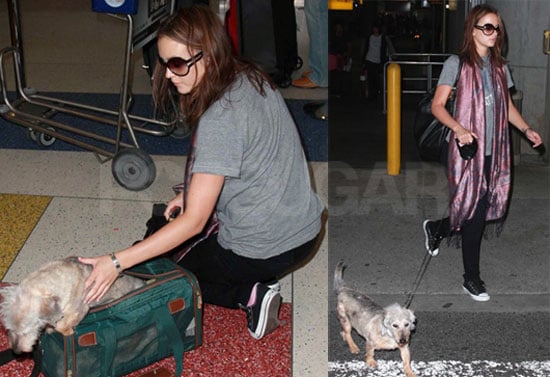 0
Leighton Goes From Teen Choice to Puppy Choice
Leighton Meester changed out of her glam green outfit you loved into a comfy t-shirt, jeans, and sunglasses when flying into JFK last night with her scruffy pup tucked into her luggage. Leighton and her Gossip Girl costars accepted multiple surfboards in LA on Sunday night, and the actress talked about the show and the upcoming season in an interview. Here are some highlights:
On the show: "It's mature, but I feel like it speaks to kids and it doesn't white wash anything."
On the racy ads: "We just end up seeing it on a billboard somewhere. But I think that it's smart and it's fine and it's cool."
On Blair next season: "There's a lot more [language]. I say Bass-hole, I say something else, but it's all Chuck Bass-related."
Sounds like Blair and Chuck's love-hate relationship will continue to be pretty tense, though we have to admit that we're still not totally used to the language that those kids can get away with these days.