Photos of Leonardo DiCaprio on the Cover of PARADE Magazine Talking About Shutter Island 2010-02-17 02:00:00
Leonardo DiCaprio Talks About His Wild Past, Green Future
Leonardo DiCaprio suited up and sat down with Parade for an interview that coincides with Shutter Island's release on Friday. He was just in Berlin promoting the movie with Michelle Williams, but he had time to celebrate Valentine's Day with Bar Refaeli. He and Bar are definitely on-again but apparently not engaged, though you guys wouldn't mind if they tied the knot. He was more interested in talking about his friends, his parents, and Hollywood hype with the magazine. Here's more: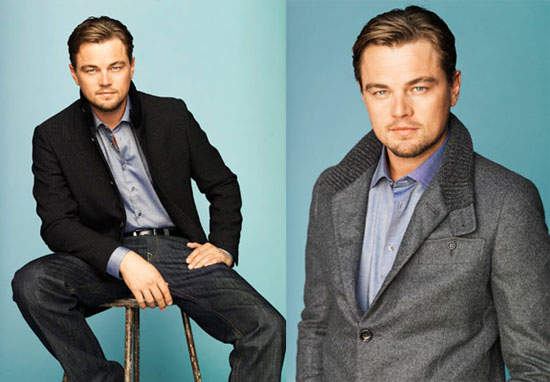 On his friends: "I know this is going to sound lame, but one of my favorite things is hanging out with my friends. They take me away from the world of show business and keep me grounded. It brings me back to who I am. When I didn't want to go out in public after all the craziness surrounding Titantic, they sort of pushed me out the door. They were like, 'Are you going to hide out like a little hermit?"
On his supportive parents: "I hear my mother's voice. She'd be going, 'Get out of bed, do some exercises, stop being a little worm.' My father would be constantly challenging me to try different things. I've been blessed with having unbelievable parents who have given me the opportunity to do what I'm doing, career-wise. And they also made me into the person that I am."
On Hollywood hype: "Just because you've done a good performance once, doesn't mean you're always going to be good. That's why some of the greatest actors in the world have gone a little bit nuts. They're saying to themselves, 'What happened? You used to love me?' It's an easy trap to fall into. You just have to realize that when you're hot, you're hot, and when you're not, you're not."
To read what Leo says about being a wild child and going green, just read more.
On what's most important to him: "I think I was sort of a little biologist when I was younger. I watched documentaries on rain forest depletion and the loss of species and habitats and it affected me a lot. So I wanted to continue that path and learn more about ecological issues. I try to practice what I preach. I've been driving a hybrid car for years now. My house is built green with solar panels. I admit I don't walk to work and I don't have a compost pile, but I am trying to set an example."
Leo on the best advice he got on set: "I did a film with Robert De Niro called This Boy's Life. I was just sort of a wild child that didn't know how to conduct himself on a film set or obey any rules. Finally, De Niro said to me, 'Look, I know this may suck right now, but pain is temporary, film is forever. Whatever you do right now is burned into celluloid for all time and for thousands of years to come.' That mantra kind of stuck with me, and no matter how hard it was doing a film, I never forgot it. No matter what happens, your work speaks for itself in the end."