Photos of Leonardo DiCaprio Looking Like Frank Sinatra on the Cover of Esquire Magazine 2010-02-11 12:30:06
Leo Dishes His Top Ten Life Lessons to Esquire
Handsome Leonardo DiCaprio is looking cool as ever, with a glowing tan, slicked back hair and drink in hand on the March cover of Esquire. The actor's next film Shutter Island finally opens next week so he's reflecting on his impressive career and the life lessons he's learned along the way. Most of you think Leo would be the best choice to play Frank Sinatra in the upcoming Martin Scorsese biopic and judging by these photos he looks like he's already practicing for the part. Here's more: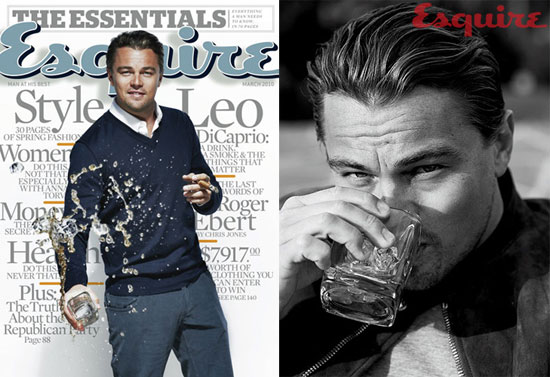 Leo on River Phoenix: "When I was eighteen, River Phoenix was far and away my hero. Think of all those early great performances — My Own Private Idaho. Stand by Me. I always wanted to meet him. One night, I was at this Halloween party, and he passed me. He was beyond pale — he looked white. Before I got a chance to say hello, he was gone, driving off to the Viper Room, where he fell over and died. That's a lesson."
His earliest memories on stage: "The earliest memories I have are jumping up onstage before concerts in downtown L. A. and trying to get on the mic and break-dance, or do imitations of my mother's friends or my father's friends, or be a comic in class. I was the most insane child you can imagine, pretty intolerable to be around. High-octane energy all the time, never wanting to focus on schoolwork."
On what drives him to act: "Probably the only thing I knew with complete clarity was that I wanted to be an actor. But there was a lot of rejection early on, and so it never felt like, Hey, I've got something here. There was always an element of me that needed to prove something to myself. It's something I don't want to get rid of, because it's what drives me. I'm never settled and I'm never satisfied."