Photos of Lindsay Lohan in a Bikini in St Bart's Over New Year's
Lindsay Welcomes 2010 on a Boat and in Bikinis
Lindsay Lohan packed her bags and headed to St. Bart's last week for a long New Year's weekend full of sun, yachts, and bikinis. She brought along her sister Ali and her BFF Patrick for the trip, and they kicked things off with a stroll last Thursday before sitting down for snacks with friends in a purple-lit bar. LL changed from her nautical-print top into her blue sparkly dress to join other celebs like Orlando Bloom, Jay-Z, and Beyonce Knowles at a huge New Year's Eve bash at the Russian billionaire Roman Abramovich's estate — check out what lots of other stars were up to as the clock struck 12!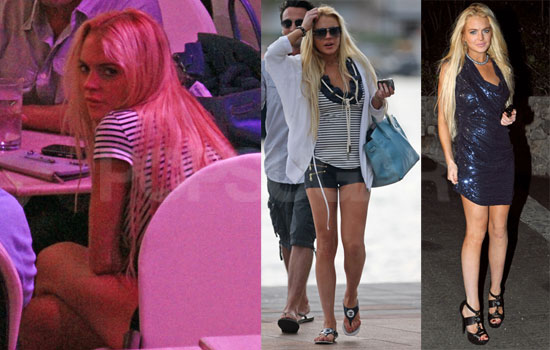 Despite her late night, Lindsay was right back in her two-piece on Friday for more lounging with Ali and Twittering of her resolutions for 2010. The girls went from a theme party on the yacht into the ocean to jet ski, and Saturday brought more of the same except Lindsay sported a black cutout suit for that afternoon in the sun. She was evidently a fan of that black number, since she wore it into town to browse around a variety of boutiques. Lindsay promised more "positive . . . Lohan Mayhem" in the 2010 so perhaps all of last year's and last decade's drama really is history.
To see more LL, just read more.