Photos of Lindsay Lohan, Mischa Barton, Jennifer Hudson and Taylor Momsen at Donatella Versace's Party at the Whitney
Donatella Gets Lindsay and the PYTs to Celebrate Art in NYC
Donatella Versace gathered some friends from the fashion and art worlds in NYC last night for the Whitney Museum Gala. First up was a star-studded dinner, where Taylor Momsen and Mischa Barton mingled with Shakira and Jennifer Hudson. The festivities then moved downstairs for the afterparty, with Lindsay Lohan turning up to make a cameo. We had a quick chat with the newly-minted artistic adviser, who said she was there "for Donatella" — and the duo certainly looked close as they posed for photos. Lindsay said she arrived late for the bash due to her travels, but that she'd be sticking around the city to handle "personal business." LL apparently even opened up later about her rumored hookup with Balthazar Getty, telling Gossip Cop that she'd never do that to Samantha Ronson.
LL managed to avoid any run-ins with Samantha's family as she narrowly avoided Charlotte Ronson. Donatella was truly the woman of the evening as she hung out with Lindsay, Mischa and Shakira and they all checked out a DJ set from Gossip Girl Taylor Momsen.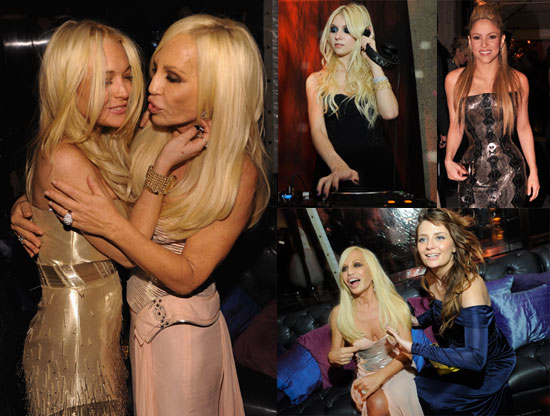 To see more from the bash, including Charlotte Ronson and Lake Bell, just
.
Images include: Jennifer Hudson, Lindsay Lohan, Taylor Momsen, Gerard Butler, Ally Hilfiger, Amanda Hearst, Charlotte Ronson, Lake Bell, Mischa Barton, Nigel Barker, Tommy Hilfiger, Donatella Versace, Alexa Chung, Shakira