Photos of Madonna, Who's Written in a Malawian Newspaper of Her Desired Adoption of Mercy James, at Heathrow
Madonna Keeps Up Her Fight For Mercy
Madonna and her daughter Lourdes were hand-in-hand yesterday at Heathrow airport. The girls arrived in London with David and Rocco last week after their trip to Malawi to adopt Mercy James. Along with her legal appeal, this weekend she e-mailed the country's The Nation newspaper to explain her motives. She wrote: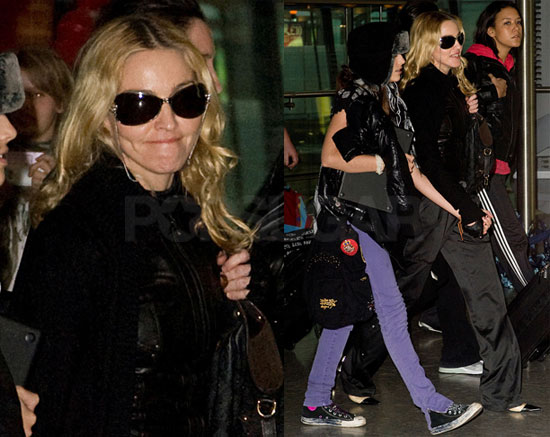 "I want to provide Mercy with a home, a loving family environment and the best education and healthcare possible. And it's my hope that she like David, will one day return to Malawi and help the people of their country. . . Though I have been advised that I cannot publicly discuss the pending appeal regarding my desire to adopt Mercy, I do want to say how much I appreciate the level of support that I have received from the people of Malawi and my friends around the world."
It seems as though time is of the essence, as Mercy is said to have gone into hiding while the paternity claims of a man who say he's her father are investigated. Madonna is lucky to be surrounded by great friends during this time, and for the sake of Mercy, hopefully, the lawsuit is settled quickly and in her best interests.