Photos of Matt Damon on the Cover of Parade Magazine
Matt Damon Gets Charitable in Parade Magazine
Matt Damon is this week's Parade Magazine cover boy, spreading the word about his charity work. Just in time for his birthday on Thursday and despite long hours on the set of his new film, he proves he's not too busy to give back to those in need around the globe. Using way less yelling than he did on Entourage, Matt explains how being charitable from a young age has affected his life, and how giving back in small ways can make a big difference. Here's more: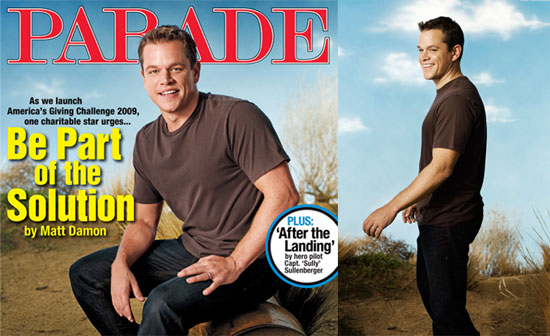 On how he got his charitable start: "When I was a boy, my mom had a magnet on the refrigerator with a little picture of Gandhi along with a quote from him. It said: "No matter how insignificant what you do may seem, it is important that you do it." As a child, I was raised to believe that, and to this day I do my best to live it."
On how visiting impoverished countries has affected him: "I've taken a lot of trips in the last few years to places like Africa and India and Haiti to try to learn what conditions are like. You can read about extreme poverty and possible solutions, but it's really powerful when you get to meet the people and shake their hands and listen to their stories."
On how he juggles travel and family: "I try to keep my trips short because my kids are so young that my wife, Lucy, can't come. We don't like to be separated, but we both feel it's so important to learn about these things."