Photos of Neil Patrick Harris on the Cover of NY Magazine
NPH Readies His Balancing Act For the Emmy Stage
Neil Patrick Harris has a big job on his hands hosting the Primetime Emmys this Sunday — don't forget to fill out your ballots on Buzz! — but the charm that landed him the gig and a nomination shines through in this New York Magazine profile. NPH reveals his passion for magic while also taking us through his unique career. We'll get a double dose of him next week since How I Met Your Mother returns on Monday — ICYMI, get a sneak peek here. In the magazine, NPH also talked about how he's navigated his way from being a young Hollywood star to openly gay in Hollywood. Plus, he has some sweet things to say about his longtime partner David Burtka. Here are highlights: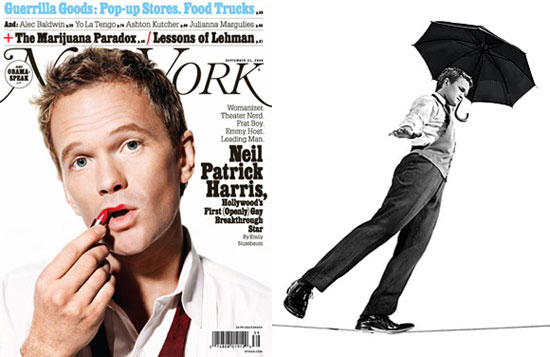 On his relationship with David: "We yin and yang very well. We're both Geminis, but I, you can probably tell, I process what the options are, and figure out what to say, and he tends to just say what he is feeling. I'm just bowled over by him. He's made my life exponentially more livable. He's just—great. I'm his forever protector, and I'm happiest when he's happy."
On being a child star: "I was a late bloomer, and when you're a youngster, and you're in the public, and people are recognizing you—it's hard to behave normally. It was like a circus sideshow. You'd wear a hat and walk fast, because if someone recognized you, they'd shout your character's name. And no one would come up—it was just like everyone was watching you, whatever you did."
On the decision to come out of the closet: "No one was ever old-school Hollywood, with a cigar in their mouth, saying 'You can't do this, see! It'll ruin your career, kid.' long as you're representing yourself well, you're making good choices for good reasons, all of the circumstantial things will vanish."
On being inspired by Danny from the Real World: New Orleans: "He was a unique entity at that time, as someone who was seemingly so confident in their own skin that they didn't need to wear their sexuality, uh— Or to flaunt their sexuality? To be more of one thing or another. And I—it's a personal thing, I suppose, but I personally responded to his lack of overt grandstanding. Again, tricky waters, because if I say something like 'He didn't wave flags,' it sounds like I'm disrespecting people that do, who I think are tremendously important, but there's more than one way to get into people's psyches. Oh, he was very sexy, but everyone thought so. One wants to be sexy to everyone...As Barney, I get to make out with all sorts of girls. And I'm allowed to say that women are sexy and not have them say, 'That's not true!' But I'm now in a really fun position, where I can tell a guy that he's sexy, and most aren't put off by that."