Photos of Nicole Kidman Holding Baby Sunday Rose in Australia
Nicole and Keith's Sunday Rose Makes Her Debut (Kinda)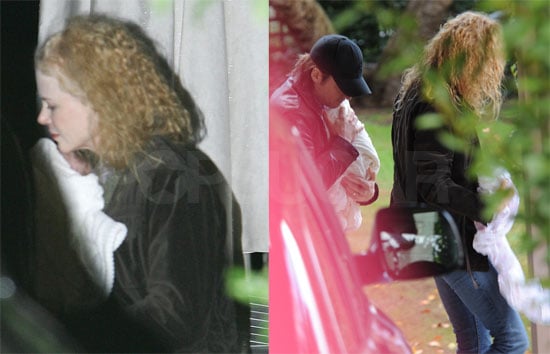 0
Nicole and Keith's Sunday Rose Makes Her Debut (Kinda)
Just a few locks of that "reddish hair" Nicole talked about peeked out of Sunday's blanket as she snuggled up in mom's arms in Sydney, Australia today. Nicole and Keith made the trek home to introduce their new addition to family including this visit to Nicole's sister, but the pressure is on to get photos of the infant since everyone has yet to see her. Yesterday, Nicole and Keith called into a local radio station to talk about what it's like bringing the celebrity baby back to Australia. Here are highlights:
Nicole said: "She looks like Keith. I think she does. . . She's got a little bit of hair, it's a bit of a reddish tint. . . They say a lot of it (labour) has to do with how your sister and your mother gave birth, so luckily my sister's had four children ... and that was pretty easy for her too. My mum was a nurse too and also she's a midwife so we were surrounded ... but we also had wonderful nurses at the hospital. I'm embarrassed now. That's too much information on a breakfast show. . . Keith and I are both appealing to the press and just to give us a little space so we can walk around Sydney and show the baby our town . . .She's tiny. She's like a doll, she's like a little, little thing."
Keith said: "Anybody out there who's got kids (knows) it's just a certain kind of feeling that you can only experience when you do it. She's just awesome ... cute little thing. . . I'm not looking forward to having to go on tour and having to leave."
It's understandably overwhelming for Nicole and Keith to be handling all the attention surrounding photos of their baby, but it sounds like they're well prepared to handle it. The whole family must be happy to meet their newest member and Australia's tiny new star.