Photos of Nicole Kidman and Hugh Jackman in NYC, Quotes From Nicole Talking About Tennessee and Sunday
Nicole Wants to Raise a Good Little Country Girl
Nicole Kidman and Hugh Jackman went to an Australia screening in NYC yesterday after Hugh stopped by the CNN Heroes event the night before. Nicole's been making the rounds with the Sexiest Man Alive as they promote their new movie, but she still loves talking about her new life in Tennessee and baby Sunday. Nicole said: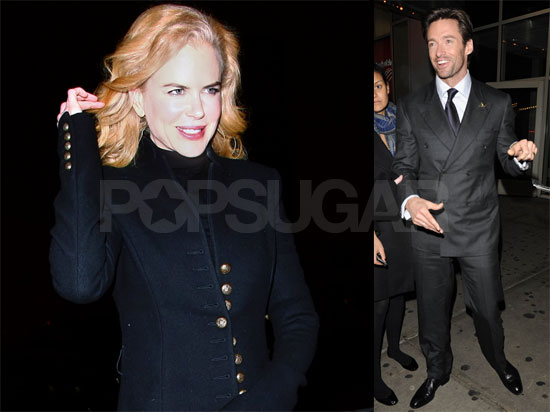 On Sunday being born in the South: "I'm glad that she is able to say she's born and bred in Nashville and Tennessee. That is really lovely. I think it's very appropriate, considering her daddy. [...] For him to be able to say his baby girl was born here, I think is very special. I hope she has a Southern accent."
On Tennessee: "We never get bothered, and the people are incredibly friendly and easygoing. It really has been a perfect match for me. I don't want to go on too much about it to the rest of the world because then more people will come here. It's a secret. Keith keeps saying, 'Shush, shush, keep this a secret,' because it's so beautiful."
Nicole said her other children are "city kids," but it seems like she's fitting in perfectly to life in the South with Keith and her little Keith-ette.