Photos of Nicole Richie, Ashley Olsen, Jessica Alba, and Katy Perry at the Elysium Gala in LA
Hollywood Stars Have Their Giving Down to an Art
The semiannual Art of Elysium charity bash took place in LA last night, with starlets like Emilie de Ravin, who wore Casadei, Jessica Alba, Rachel Bilson, Lindsay Lohan, and Ashley Olsen getting decked for the red carpet. Nicole Richie, Kate Bosworth, and Kirsten Dunst also attended last year's event, which benefits the organization designed to help children battling serious medical conditions. Happy couples were all over the place — engaged duo Katy Perry and Russell Brand couldn't contain their affection as they enjoyed a little PDA at the table. Katy opened up about their upcoming wedding and said, "We're actually very go with the flow, both of us. Yeah, we love each other and we desperately want to be with each other, so we're going to take it as we come."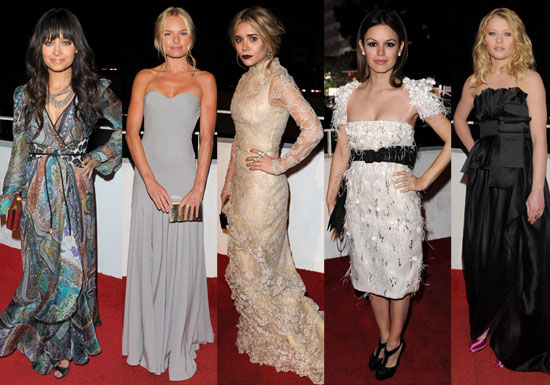 The also soon-to-be-married True Blood couple Anna Paquin and Stephen Moyer hung out nearby, while Jessica Szohr and Ed Westwick represented the Gossip Girl gang. Jenna Dewan looked gorgeous in her sparkly gown — she said she was encouraged to wear it after her husband Channing Tatum said, "When you look that good, you might as well show it off!" Olivia Wilde, who's been one of the many celebs active in getting relief to Haiti through her Twitter updates, made the rounds with husband Tao Ruspoli. Katy took a break from gazing at her man to chat with Nicole, Rachel, and Amber Heard, as the ladies of Hollywood enjoyed another opportunity to hang out after Thursday's Golden Globes luncheon. The big weekend culminates in tonight's big show, so make sure check in with us later as we cover things live from the scene!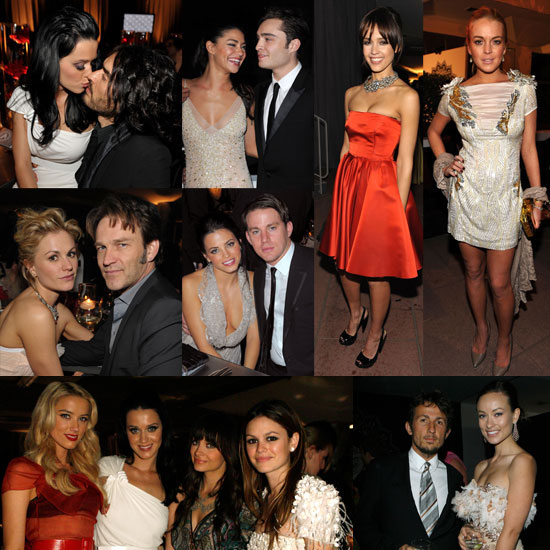 Lots more from the party so
Images Include: Nicole Richie, Jessica Alba, Cash Warren, Kate Bosworth, Justin Bartha, Rumer Willis, Alexander Skarsgard, Ashley Olsen, Katy Perry, Russell Brand, Kirsten Dunst, Sophia Bush, Brittany Snow, Jenna Dewan, Channing Tatum, Rachel Bilson, Dita Von Teese, Marisa Tomei, Elijah Wood, Olivia Wilde, Rashida Jones, Adam Lambert, Dianna Argon, Minka Kelly, Molly Sims, Topher Grace, Ed Westwick, Jessica Szohr, Bryce Dallas Howard, Anna Paquin, Stephen Moyer, Amy Smart, Alicia Witt, Ali Larter, Lindsay Lohan.