Photos of Nicole Richie, Joel Madden, Harlow Madden, Jennifer Hudson, Justin Bieber, and Jonas Brothers Recording a Haiti Single 2010-02-02 08:32:10
The Musical World Gets Together to Help Haiti
One day after music's biggest stars gathered in LA for the Grammys, many of them reconvened at the Jim Henson studios yesterday to record a new version of "We Are the World." The premiere of the single, which benefits Haiti, will take place during the Feb. 12 broadcast of the Vancouver Olympics opening ceremony on NBC. Kanye West was fresh from the French couture shows to join Jennifer Hudson and Wyclef Jean, while Joel Madden brought along little Harlow, who apparently flirted with the Jonas Brothers and Kanye. Benji Madden chatted with Rashida Jones, while Justin Bieber and Harry Connick Jr. mingled with Vince Vaughn.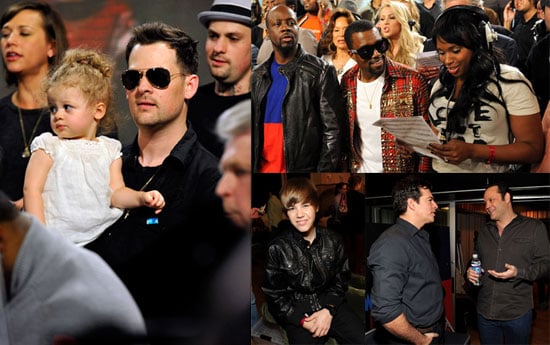 Nicole Richie was there with Joel and Harlow, later joking, "I hope Jennifer Hudson wasn't upset that I was out singing her tonight." Lil Wayne had a little solo studio time, while Miley Cyrus and Pink bonded for a bit. Celine Dion, meanwhile, looked happy to share a moment with all three Jonas Brothers. Rashida's father, legendary producer Quincy Jones, was the man behind the original version of the song produced 25 years ago, and he was there again leading Hollywood's latest effort to help Haiti while also honoring Michael Jackson.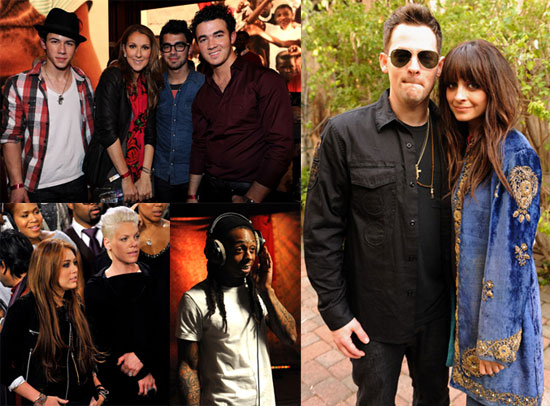 To see more from the event, just
.
Images include: Josh Groban, Adam Levine, Jeff Bridges, Benji Madden, Joel Madden, Kid Cudi, Harry Connick Jr, Vince Vaughn, Jamie Foxx, Snoop Dogg, Natalie Cole, Kanye West, Jennifer Hudson, Joe Jonas, Jason Mraz, Nick Jonas, Kevin Jonas, T-Pain, Harlow Madden, Justin Bieber, Enrique Iglesias, Wyclef Jean, Toni Braxton, India Arie, Lionel Richie, Lil Wayne, LL Cool J, Miley Cyrus, Pink, Gladys Knight, Celine Dion, Usher, Rashida Jones, Quincy Jones